If you are a fan of William Ray Norwood, then you will love the music gadgets he uses, promotes, and sells. This is a detailed guide on Ray J headphones and Ray J earbuds, including a Raycon earphones review and why he ventured into this business.
In addition, we will look at the man behind this success, Ray J. We will briefly review his story with a view of understanding how he became the best not only in music, art but also in business through Raycon Global.
However, if you are in a hurry, here is a quick comparison table of our pick of the best Ray J Raycon Headphones and earbuds.
| | | |
| --- | --- | --- |
| Ray J headphone or earphone | Unique Selling Point | Buying Link |
| 1. Raycon H100 Noise Cancelling | Best Noise cancelling Raycon Headphones | |
| 2. Raycon H50 Bluetooth Headphones | Over-ear choice for Ray J Headphones | |
| 3. Raycon H60 Wireless Over-Ear | Best Over-ear Raycon headphones | |
| 4. Raycon H70 Wireless Headphones | Noise Cancelling and Over-ear Ray J Headphones | |
| 5. Raycon E25 Wireless Earbuds | Best pick for Raycon Earbuds | |
| 6. Raycon X90 Titan RBE790 | True Wireless Ray J Earphones | |
| 7. Performer E55 Wireless Earbuds | Best value choice for Ray J Earbuds | |
| 8. Raycon E70 Pro Earphones | True Wireless Earphones that Ray J uses | |
But first, let us learn more about Ray J before we explore the best Raycon headphones in detail.
Who is Ray J – Founder of Raycon?
William Raymond Norwood is Ray J's real name. On the 17th day of January 1981 in Macomb, Mississippi he was born. He is related to two celebrities. His older sister is Brandy Norwood, an actress, and a recording artist.
Ray J is the first cousin to rapper Snoop Dogg. He married Princess love in August 2016 and together have two kids.
Raymond Norwood started to appear in television commercials at the age of 8 for various companies. In The Sinbad Show which was aired from 1993-1994, he played the role of "foster son."
His work impressed the producers of a television show, Moesha, who give him the role of Dorian "D-money in the UPN series which was aired from the year 1999 to 2001.
Decorated Singer and Actor
As a rapper, singer, and songwriter, Ray J has recorded and released several albums and songs. His debut album was Everything you want which was recorded in the year 1995 and released in March 1997.
His second album was This Ain't a Game. It was recorded for over 18 months and was released with Atlantic Records on June 26, 2001. His third album, "Raydiation" was released on the 27th of September 2005. "
For the Love of Ray J", his reality dating show, premiered on the 2nd of February 2009. Ray J, his sister Brandy, together with their father Willie Norwood Sr released the single "A Family Business" on June 19th, 2011.
This single was used as a soundtrack to the reality TV show "Brandy and Ray J: A family business. On April 6, 2013, he teamed up with Bobby Backings for the track "I Hit It First." Ray J and his sister competed on a FOX reality cooking series named My Kitchen My Rules.
He was part of season 19 of Celebrity Big Brother which premiered on January 3, 2017. He walked off the show after a week and threatened to take legal action against the show.
When Ray J started selling Headphones
Ray J has always been involved in pioneering the next big trends. He was obsessed with following up on new devices and gadgets. As a business owner, Ray J got tired of seeing high mark-ups and outdated electronics.
He realized the role of great quality components in product development. It is when his friends started borrowing the limited edition tech he bought that the idea of Raycon came into place.
His friends kept asking for more and grew to love the tech. This is when Ray J decided to start a brand, Raycon, that would enable him to share the great quality tech with the world.
This is when Raycon company was born, back in 2017. Its mission and passion were to create premium quality electronics for affordable and honest prices. The innovative, high-quality electronics are mostly designed by celebrities.
Wireless audio devices are the electronic type of devices that Raycon mostly deals with. These include Bluetooth speakers, wireless headphones, wireless earbuds, and Bluetooth smartwatches.
Best Ray J earbuds – a review of Raycon earphones
1. Raycon E25 Wireless Earbuds Bluetooth Headphones
If you are looking for excellent wireless earbuds, Raycon E25 Wireless Earbuds Bluetooth Headphones are your solution.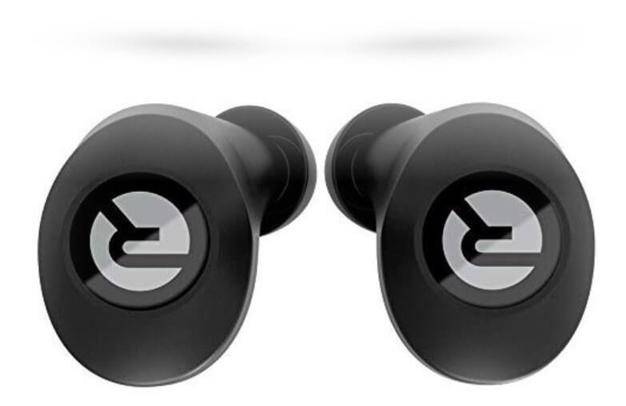 The cutting-edge technology offers wireless audio. This is aided by the latest 5.0 version Bluetooth technology. This Bluetooth technology makes sure that the connection with the device you're using is stable.
The connection is not limited to any type of device. You are guaranteed of wireless freedom of up to 33 feet away from your audio device.
These earbuds are not only lightweight and secure but also they are a comfortable fit on the listener's ears. You are likely to forget you're wearing these earbuds.
The earbuds are ergonomically designed to fit well on all ear sizes. This guarantees long-lasting comfort and fatigue-free ears when listening.
These earbuds have a unique waterproof feature. This is enabled by the IPX4 coating. These earbuds help you as you go about your daily activities.
You can put them on in the rain, during workouts, when running, hiking, jogging, during yoga, when traveling, and when doing your household chores.
Long Battery life
If you need earbuds with long battery life and that you can charge on the go then you need to purchase Raycon E25 Wireless Earbuds Bluetooth Headphones.
As a result, they give you over six hours' playtime with a single charge. They come with a complimentary compact charging case with a built-in 388 mAh battery.
This battery when fully charged can charge the earbuds for up to 3 times while on the go. This totals to 18 hours of non-stop use.
This enables you to go through your day served with continuous enjoyment without concerns of power shortage.
Deep Bass
These earbuds give you deep bass that you can feel with active noise cancellation. Feel the authenticity of your music with the rich and high fidelity sound with powerful deep bass.
The noise-canceling feature guarantees quality sound and listening with surrounding sounds blocked.
It is advisable to find your fit from the variety of earbuds available for a great listening experience.
3. The Performer E55 Wireless Earbuds
Experience real freedom with the wireless Raycon Performer E55 earbuds. This is enabled by Bluetooth 5.0 technology.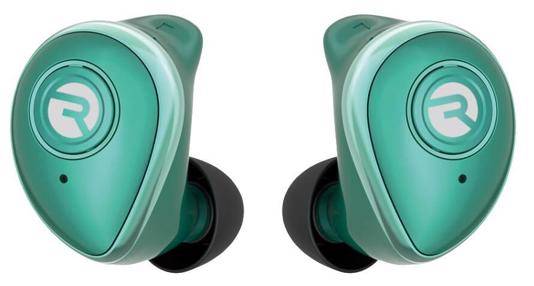 This latest Bluetooth version makes these headphones to be easily paired with a variety of audio devices.
The pairing takes only two steps. After pairing for the first time connection is made automatically when both devices are on.
The connection remains stable up to a distance of 33 feet away. Lose your wires and experience real freedom in everything you do.
If finding earbuds that will serve you for long without going off has been a problem, try the performer E55 wireless earbuds.
Long Battery Life
They have a long-life battery that can last for up to 6 hours playing music on a single charge. These earbuds come with a compact charging case.
This case of the wireless Performer E55 Ray J earbuds can charge your earbuds up to six times while on the go when fully charged.
This adds up to a total of 36 hours without a power shortage. Go completely wireless with a wireless charging feature too.
The E55 charger supports wireless charging. With this feature, you are provided with a flexible and convenient charging method.
Sized for Comfort
If you need earbuds that are light, secure, and have a comfortable fit, consider purchasing these earbuds. They are so light that you will forget that you are wearing them.
The E55 earbuds are differently sized. You can, therefore, choose the size that fits comfortably in your ears.
The ergonomic design of these earbuds makes sure they fit securely to ensure that your ears are fatigue-free and you get long-lasting comfort.
This should make you consider these earbuds if you like listening to music and programs for long hours.
Have you ever heard of a saying that goes big things come in small packages? This becomes real once you purchase the Raycon E55 earbuds.
The sound is rich with high fidelity and deep powerful bass. These features give you an authentic audio experience whether watching programs or listening to music.
Find your best fit from the E55's different-sized soft silicone gel tips for an optimal listening experience. It is your choice to use the earbuds independently or together.
3. Raycon True Wireless Earphones X90 Titan RBE790
These Raycon earphones will satisfy your need for making calls without talking through the phone. They have a built-in microphone that enables you to make these calls successfully.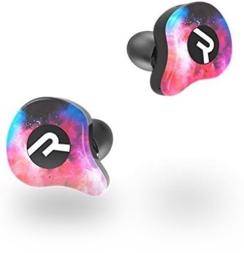 These earbuds will also cancel out the outside noise effectively to help you focus on what you are listening to.
The noise-canceling technology also ensures the headphones produce high sound quality with crystal crisp treble.
These headphones provide you with a unique feature of wireless charging.
With wireless charging the hassle that comes with the connection of charging cables and devices is reduced.
All you need to purchase is a Qi wireless charging pad. This will help you power your charging capsule.
The battery life of these Ray J earbuds is great. When you have them fully charged, they can offer you up to six hours of playback time and 2,000 hours of standby time. this helps you enjoy your listening for long durations.
If you need earphones with a perfect design, then the RBE790 Ray J earbuds will fulfill your need.
Professional stylists designed these earphones in a way that will offer you a great balance of sharp sound retention with a design that makes them 15% smaller than various premium devices.
Durable and good Connection
These headphones are also durable and come with six ear gel tips that make sure that they perfectly fit across different ear sizes.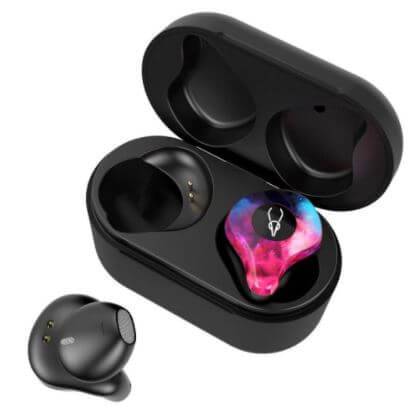 These earbuds are made with the latest Bluetooth technology.
It connects to all Apple and Android devices.
The connection takes only one step.
The Bluetooth remains connected up to a 30 feet distance between the devices.
All these ensure that you get a phenomenal wireless experience.
You can wear these earbuds in any weather because they are water-resistant. They are coated with an IPX4 water resistance technology that protects them from water, rain, or sweat.
4. Raycon E70 Pro Best True Wireless Earbuds
These are among the main products of Raycon Global, a company founded by Ray J. They are among the best Ray J earbuds you will ever find, and the man himself loves them.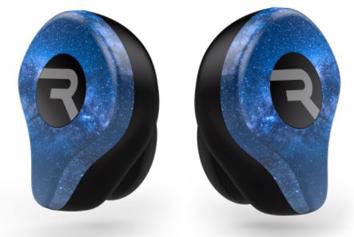 There are quite some very good features that Raycon E70 Pro has to attract a celeb at the level of DJ Sasha.
First is the basics like the charging case, which is portable.
It is light and can easily fit in your small pockets.
Raycon e70 charges earbuds fully for up to four times. This makes them some of my favorites in the Ray J earbuds collection.
The Bluetooth feature pairs with all of your devices that are Bluetooth enabled for up to 30 feet away.
Earbuds fit well in your ears due to the silicon ear caps and you can listen for a long time comfortably.
Headset controls are labeled to make them easy for you to use.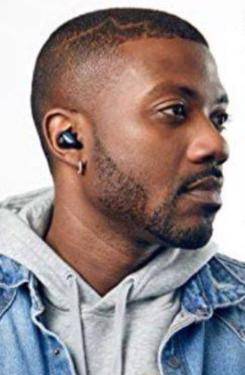 Your earbuds synchronize when using by use of the new audio technology which also helps provide you with powerful and clear sound.
Your enjoyment of music for long hours is enhanced by the powerful battery which allows play for six hours and up to 240 hours standby. It only takes one hour to charge.
What is in the box?
Magnetic charging case.
Manual for use.
Micro USB to a USB charging cable
Raycon E70 Pro Best True Wireless Earbuds.
Silicon ear tips
Return policy and Warranty info.
Great sound quality.
Comfortable on ears.
Simple Bluetooth pairing.
Easy to set up.
Right earbud spoils easily.
Only the left earbud is connected.
Best Raycon Ray J Headphones
In this comprehensive Raycon review, we explored the best Ray J headphones and Ray J earbuds, including the Raycon earphones that he uses.
1. Raycon H100 Active Noise Cancelling over-ear Ray J Headphones
If you are looking for headphones with super design and construction, then Raycon H100 Active Noise Cancelling headphones are all you need.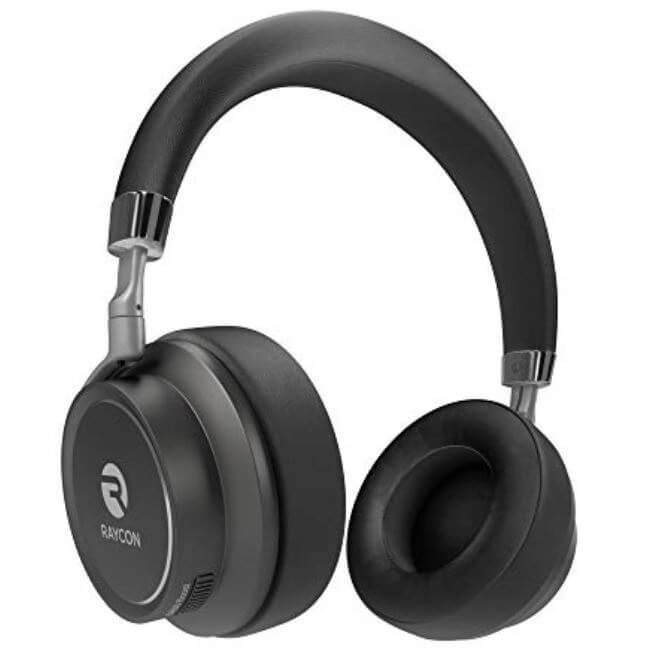 The frame has leather padding that is thicker and cushier. This together with the swiveling and pivotal ear cups make you feel comfortable when wearing these headphones.
The headband top part ends higher up to fit different head sizes. The headband also has built-in hinges that help to collapse the ear cups. Collapsible ear cups are easy to fold and pack during travels.
The earpads of these headphones are thick and wide to make them look flat on your head and suitable for large face varieties.
The ear pads also have faux leather that is lightweight and forms a seal that is secure around your face.
Easy Access Buttons
The control buttons of these headphones are easy to use. These control buttons include the on and off buttons, volume control buttons that are also used as skip buttons, and phone control.
The other button is for activating Bluetooth and controlling the active noise canceling.
Water-Resistant
Your search for headphones you can wear in the rain or when sweating during intense and serious workouts ends once you purchase these headphones. These headphones can handle rain and sweat easily. They are IPX5-rated to resist water.
Every person purchasing headphones is looking for exceptional sound quality. That is exactly what you get when you purchase these headphones.
The sound is clear, clean, and balanced to fit any music genre. The mids are well-rounded and are well separated from highs and bass. The bass is deep and strong.
Raycon added when it is at the lowest setting the bass is less present and a unique fixture, EQ slider, in these headphones.
When it is at its lowest setting the bass is slightly present but when it is at its highest setting the bass will sound superb.
Quality Sound
You can't talk about the sound quality without mentioning the noise-canceling feature in these headphones. This makes it suitable for you when using headphones in crowded environments.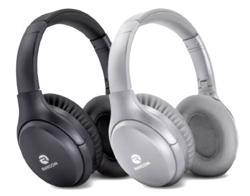 Outside noise from busy airports, subways, city buses, or even won't interfere with your listen unless you want to listen to it.
You expect that these headphones can be used in both wireless and wired mode. Connect the 6-foot 3.55 audio cable to the headphones when power depletes. This makes sure that your listening is not cut short.
Your need for headphones with decent battery life is met by Raycon H100 Active NoiseCancelling Headphones.
The 450mAh battery ensures that you get long hours of quality listening experience. The battery life is usually affected by the noise cancellation feature.
When it is off you get up to 30 hours of non-stop listening. When the noise canceling is turned off, you can get up to 15 hours of quality listening experience.
It takes about two hours to charge these headphones when the battery depletes.
Bluetooth Technology
These headphones are equipped with the latest Bluetooth technology. The Bluetooth 5.0 version makes sure that your phone calls and connectivity are improved.
There are no cross talks when you are making calls. The connectivity can extend for up to 33 feet without disconnecting.
This gives you the freedom to move around and away from your device without interrupting your music. The Bluetooth can pair with every kind of audio device.
Raycon H100 Active Noise Cancelling Headphones are available in two colors; silver and black.
2. Raycon H50 Bluetooth Headphones Over Ear
Finding headphones that have premium sound quality has become a problem lately. These headphones will solve this problem perfectly. They cancel noise passively. This means that they do not cancel the noise completely but cover outside noise effectively.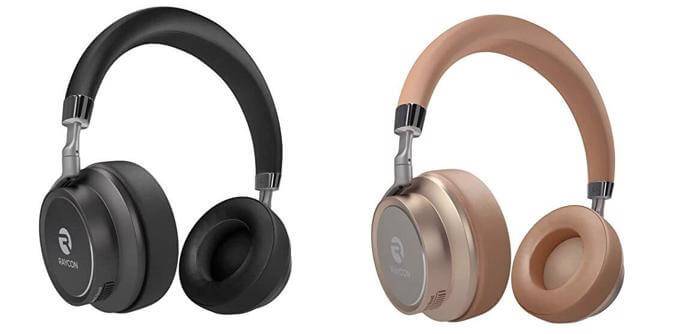 Super Design and Drivers
The closed-back design, the 40mm drivers, and the CSR chip ensure you are provided with immersive Hi-Fi sound quality. Enjoy quality bass and sound clarity by switching on the bass boost switch.
If you know that you want headphones that will feel comfortable on your head, then you will need to purchase these headphones. The headband is soft padded and adjustable to comfortably fit on the head.
The headband is also made of stainless steel for durability. The simulating human skin texture ear cushions also provide comfort.
Bluetooth Connectivity
The Bluetooth feature in these headphones is advanced. It connects with a wide variety of devices. Feel free to enjoy your music 30 feet away from your audio device.
upper connectivity allows you to focus on music and answer calls without missed words or skips. Use the headphones both wireless and wired.
With this feature, you are guaranteed that your headphones will never go off. When the battery depletes on the wireless mode, you can connect the audio cable to continue enjoying listening
Battery Life
You are guaranteed superb battery life with these headphones. This is obvious when using the wireless mode. The lithium-polymer battery is new and improved.
It can allow up to 8 hours of seamless music enjoyment playtime and 300 hours of standby time in a single full charge.
These headphones are engineered to provide you with a peak performance when you need them most. The control buttons are easy to use.
They are well separated and you don't have to take off the headphones for you to control them.
3. Raycon H60 Wireless Over-Ear Noise Cancelling
If you want headphones with HD sound quality, consider the purchase of these headphones.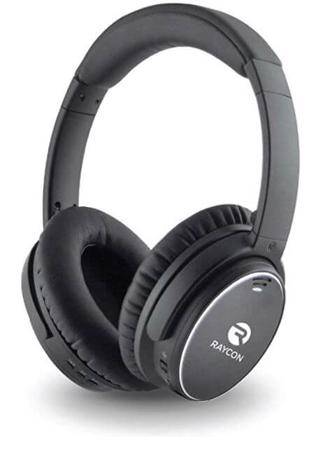 The 40mm drivers and the closed-back design make these headphones produce an immersive Hi-Fi sound.
The noise cancellation feature in Raycon H60 headphones is passive.
It does not cancel the noise completely like the active noise cancellation feature.
What it does is that it makes outside noise lower.
Your search for comfortable headphones ends once you get your hands on the Raycon H60 headphones.
The ear cushion in these headphones simulates the human skin texture. This works to ensure that you experience lasting comfort.
The headband is also softly padded to ensure the headphones are comfortable on your head. They are adjustable.
This helps you to easily adjust the size of the headphones to a size that will fit you perfectly. The headband is also made of stainless steel.
This material makes them durable. They will serve you for long and will not break easily when they accidentally fall.
Advanced Bluetooth Technology
The Bluetooth technology in these headphones is advanced. You can easily connect them to any type of device. The connection is easy and fast.
Once the connection is done it becomes automatic when both devices are on. The connection is so strong that it does not interrupt play for a far length of 30 feet.
This gives you more freedom. You don't have to carry your phone around the house. This advanced Bluetooth feature ensures that your music doesn't break during play.
It also ensures that calls are fluent without skips or missed words. Calls are aided by the inbuilt microphone in these headphones. You don't have to switch off headphones again to receive calls.
Wired and Wireless
With these headphones, you have to choose which model fits you the most, wired or wireless. The wireless mode gives you much more freedom but the charge depletes after long hours of use.
When the power is off you can connect the audio cable into the audio jerk on the headphones to continue listening.
This ensures that you experience non-stop entertainment. The control keys of these headphones are easy to use. They are well separated to make sure that you do not confuse them.
Buttons and Battery
Power and skip buttons are on one side while volume and noise cancellation buttons are on the other side. Your problem of searching for headphones with superb battery life is solved once you purchase these headphones.
When fully charged, the headphones can give you up to 10 hours of talking and listening to music with a standby time of up to 300 hours. When this new improved lithium polymer battery is out of charge, it only takes two hours to charge it to full again.
4. Raycon H70 Wireless Active Noise Cancelling Bluetooth Ray J Headphones
The Raycon H70 headphones will give you long hours of entertainment. They have amazing battery life.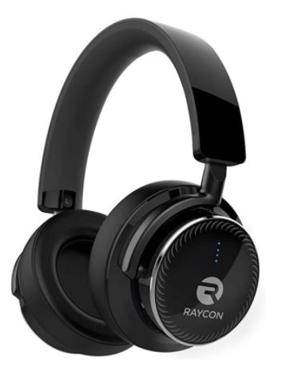 The 600 mAh battery with improved lithium polymers can sustain calls and music for up to six hours.
The battery allows up to 240 hours of standby time. you don't have to worry about charging.
Charging these headphones to full charge usually takes approximately one hour or less.
The Bluetooth technology of these headphones is top-notch. This technology makes sure that connectivity is easy and fast.
The technology also makes the Raycon H70 Wireless Active Noise Cancelling pair with a variety of audio devices.
You can have your freedom of movement with these headphones. They can stay connected with the audio device 30 feet away.
Active Noise Cancelling
If you are searching for headphones with quality active noise cancellation, then your search should end once you get hold of these headphones.
This feature completely suppresses noise from the surrounding environment.
This makes them favorable for use when you are traveling and the best option if you work in industries. You can enjoy your music and make calls without any interruption.
You are guaranteed of incredible comfort one you purchase these headphones.
The earbuds of these headphones are ergonomically designed with soft ear cushions to ensure that the headphones stay comfortable and firm on your ears.
This guarantees you fatigue-free hence long-lasting comfort. The headband is also adjustable to fit different head sizes.
Wired and Wireless option
With these headphones, you can choose to either use them wired or wireless.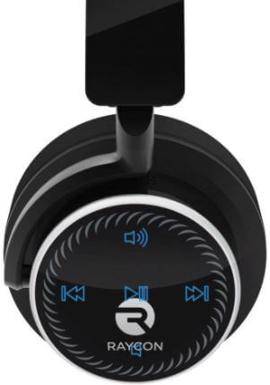 Most people prefer the wireless mode but when the battery depletes they may find it hard to charge the headphones.
You can continue watching programs and listening to music by connecting the audio cable on the audio jerk on these headphones.
Handle the audio cable with care and prevent it from tangling which may spoil it sooner.
The control buttons of these headphones are easy to use. You don't have to take the headphones off your head to operate them. The various controls include volume buttons, skip buttons, and pause and play buttons.
Easy Carrying Case
These headphones come with a carrying case. You can easily fold them and put them there for easy packing when traveling.
The sound quality of these headphones is superb. The sound is clear and strong. You will have a great listening experience when playing music and watching videos.
These headphones also are water-resistant. The headband is made of a strong material with IPX water resistance.
Our pick for Ray J Headphones and earphones
While Raycon earbuds are good, not all people like them since everybody's taste is different. When we compare the headphones and earbuds above, our top two picks have to be the following;
1. Raycon True Wireless Earphones Raycon E25
The Raycon True Wireless Earphones Raycon E25 are light and produce quality sound. They are waterproof. They support wireless charging. The Bluetooth connectivity is great. It can still connect when devices are meters apart.
They feel comfortable and have been purchased more by people. They are in high demand. This means that they appeal to customers and attract more new customers.
2. Raycon H100 active noise-canceling headphones
The Raycon 100 headphones are excellent. The sound quality is exceptional. The bass is good and the mids are separated from the highs.
They are also waterproof. They cancel any kind of noise effectively. The control buttons are easy to use.
There is no sound quality difference in wireless and wired modes. The ear cushions simulate human skin texture to make them comfortable during use.
The battery lasts for long before it depletes. It's an amazing experience having these headphones.
Why Ray J is famous with headphones
Ray J was famous even before he started the headphones business. At the age of 8 Raymond Norwood started appearing in television commercials for various companies and in 1993-1994 played the role foster son in The Sinbad Show.
He was involved in celebrity fame from music and reality shows. In 2017 January, he was part of season 19 of Celebrity Big Brother though he walked off after a week.
Now, let's look at his fame in the business world. Ray J was previously involved in a successful electronics company before.
Raytroniks was involved in shipping electronic bikes in the US. He got promotional help from celebrities.
The success of this company made him cut a distribution deal with Cowboy wholesale based in New York. The company was involved in distributing electronics.
Now combined, Raycon Global expanded its electronics line-up with lifestyle products. These included Bluetooth audio devices (headphones, earbuds, etc.) smartwatches and drones.
What Headphones does Ray J use
From my observation of Ray J mostly uses the Raycon E70 Pro Starship Earphones, dabbed the best true wireless earbuds. As the founder of the company that produces them, Raycon Global, he definitely must don one of his own.
There are a number of instances that Ray J has been spotted using the Raycon E70 Pro, best true wireless earbuds. This makes it considered perhaps his favorite.
Final verdict – the Conclusion
When you need headphones it is important to know what you will be using them for. This is what will enable you to choose the headphones that suit you the best.
Before any purchase, make sure you look at the features of each headphone. Access if that is what you want.
It is also important that you have a look at customers' reviews who have already interacted with the product you wish to buy. Have a look at the Raycon website for more options.
Watch one of their reviews here