Raycon earbuds are in-ear wireless headphones that rest comfortably on the opening outside of the ear canal. They come in different colors, are well built, and have good sound quality.
They are designed by platinum artists and made by incorporating customers' feedback. The latest chipsets are combined with the bass boosted audio cores of these earbuds to keep you tuned to your favorite music and podcasts for long hours.
They also have Rc-shaped frames which match the natural form of the human ear, therefore, curving to your listening needs. They come in different sizes to fit the needs of customers of different ages. 
Are Raycon earbuds good?
Raycon earbuds are good because they give you a good wireless experience. If you want to lose the wires and have a little bit of freedom, they are a good option. They connect to a variety of devices in a simple two-step pairing procedure. Their battery life is also good.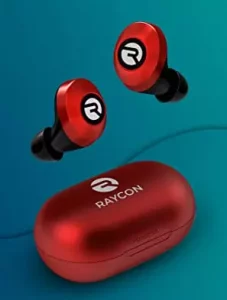 When they are fully charged the battery can last for seven hours. Also, the charging case of the earbuds can charge them up five times before the power in them depletes.
That totals up to thirty-five hours without power shortage filled with comfort and no strings attached.
These earbuds are also good because of their amazing sound quality. Each earbud can be used separately.
They can also connect to Bluetooth devices that are 33 feet away, therefore, giving you the freedom to roam around while enjoying your music and talk shows.
Regardless of their small size, they are rich in deep bass that makes sound authentic and takes your listening experience to a whole new level. Therefore, everyday listeners who want something simple should try these earbuds.
Also, these earbuds are cheaper than other brands of earbuds such as apple and Google Pixel. What they offer exceeds their pricing and are a good value for your money.
These earbuds also have playback controls enabled by the multifunctional buttons on each earbud. There is also an inbuilt microphone in the earbuds that makes them support phone calls. 
Read our full guide on the best Raycon earbuds for a complete review of the options available and our recommended best choices.
Are Raycon earbuds good for running or exercise?
Raycon earbuds are good for running and exercise. They are water and sweat resistant. You can wear them during workouts with no fear of spoiling them if you sweat.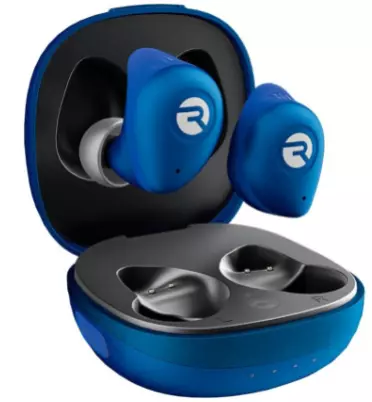 Additionally, if the rain catches up with you while on your run you don't have to worry.
They are also lightweight, portable, and fit perfectly on your ears making them suitable even for the most intense workouts because they don't fall off.
They also leave your ears fatigue-free even after long hours of running and exercise.
However, even if these earbuds are waterproof, it doesn't necessarily mean that you can dip them into water.
Therefore, if you swim for exercise, you shouldn't dive in the water with these earbuds on. Always remember to take them off before getting into the shower after vigorous workouts too.
Raycon earbuds vs Airpods
Raycon earbuds come in a horizontal case that stays locked by a magnet. Airpods on the other hand have a vertical case that closes smoothly.
Therefore, Airpods cases are easy to open compared to earbud cases. If the case falls, earbuds are likely to avoid damage because they will remain in the case but AirPods are likely to get damaged because they are likely to come out of the case.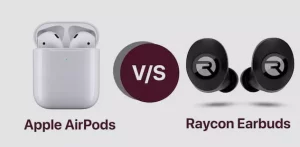 Earbuds are available in a variety of colors while AirPods are available only in white.
Being available in 4-5 colors makes Raycon earbuds favorable to you if you love color.
Even though both Raycon earbuds and Airpods fit well in the ears, AirPods are much more comfortable.
Regardless of the availability of Raycon in different sizes, the one-size-fit-all design of AirPods is more comfortable because there is no need of pushing them further in your ear for them to comfortably fit in.
Raycon earbuds have a better playtime and battery life compared to Airpods. While earbuds can last for 7 hours playing your favorite music and shows, Airpods can last for 6 hours only.
If you include the charging case, Raycon earbuds have a battery life of up to 36 hours while Airpods have a battery life of 24 hours only. Therefore, Raycon earbuds are more suitable for outdoor use compared to AirPods
These devices can both connect to a variety of devices but Airpods are more suitable on iOS devices. On the other hand, Raycon earbuds are more suitable for Android and Mac devices. It is therefore up to you to get the audio device that will be perfect with the Bluetooth device you use.
When it comes to sound quality each of these two devices has standout qualities. Raycon earbuds have a rich base than AirPods which are better when it comes to balancing sounds.
Airpods have active noise cancelation and can be used in Transparency mode while Raycon earbuds have only noise cancellation.
Airpods have sensors that can pause music and podcasts when you remove them from your ear but Raycon earbuds lack this feature.
Both the Raycon earbuds and Airpods have touch functions but the AirPods' are more convenient.