Do you tend to sit at your house's porch during the night to get some air? Outdoor hanging lights with Bluetooth speakers will help take your relaxing time to the next level. With these selected lights for this year, music and light are provided on this one device.
Not to mention, listening to your favorite music enables you to relax. Without a doubt, you will need to have the best outdoor hanging lights with Bluetooth speakers to help you enjoy.
| | | |
| --- | --- | --- |
| Product | Seller | Buying Link |
| 1. Tiki Torch Bluetooth Light-Up Speaker | Sakar | |
| 2. Olafus Outdoor Waterproof Wireless Lantern Speakers | OLAFUS | |
| 3. Westinghouse Intelligent Solar Bluetooth Speaker LED | Westinghouse Solar lights | |
| 4. VTRETU Portable Night Light Wireless Bluetooth Speaker | VTRETU | |
The Best Outdoor Hanging Lights With Bluetooth Speaker
In this is a comprehensive buying guide, we review the best outdoor hanging lights that have superior Bluetooth speakers in-built for bright light and clear music play.
1. Two Pack Margaritaville Tiki Torch Bluetooth Light-Up Speaker
Purchasing this Bluetooth lamb solves your need for a portable speaker. It's lightweight and can be carried around the house. It can be used in the kitchen, study room, bedrooms, and bathroom while relaxing. Besides, it's also used outdoors in porches, gardens, and parties.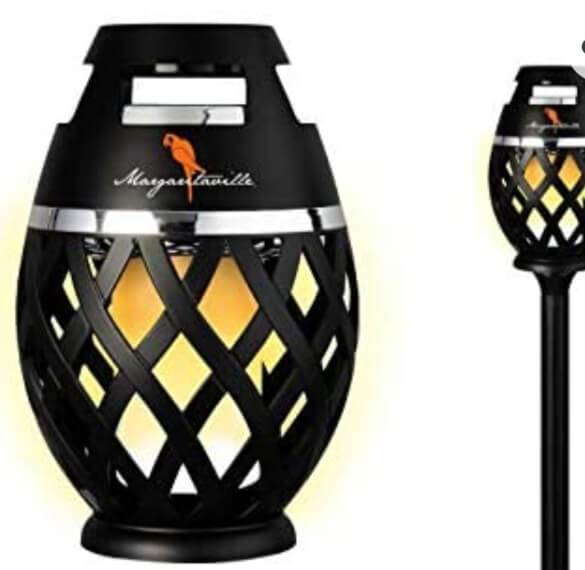 This speaker is the perfect fit for parties. When you need louder music, you use the multiple pairing feature to connect two tiki torch Bluetooth speakers.
The sound quality is also excellent. Also, the lighting ensures that the party atmosphere is perfect.
The Bluetooth feature sorts out all your needs for outdoor use. Amazingly, it's effortless to connect and has a solid connection.
The lamb's Bluetooth can connect to the Bluetooth of a device 33 feet away. This makes you feel more accessible when using the device outdoors.
While indoors you can have your lamb in the kitchen while your audio device charges in the living room.
This lamb speaker serves you all night long. The battery life is vital because it provides you with 11 hours of continuous lighting and 22 hours of non-stop music set at a medium volume. When you combine both the lighting and the music, the device can run for up to 7 hours before the battery depletes.
A unique feature of this lamb is that it comes with a pole. You can use this pole to raise the lamb to a certain height to serve you perfectly during outdoor activities. There will be no sound barriers to the music, and the lamp will light up the whole place. Thus your beach, picnic, or party experience with friends becomes more enjoyable.
Pros
The sound is excellent.
The lighting is cool.
Pairing with other devices is easy.
Multiple-pairing enabled.
Good battery life.
Excellent for both indoor and outdoor use.
Cons
They are not waterproof, thus water can easily damage them.
The poles become flimsy quickly.
3. Olafus Outdoor Waterproof Wireless Lantern Speakers
The color-changing and timer feature in this lantern speaker makes it decorative. To illustrate, the LED light can change to eight different colors that are red, dark blue, purple, pink, green, white, light blue, and amber. The lamp lights your outdoor environment thus decorating it.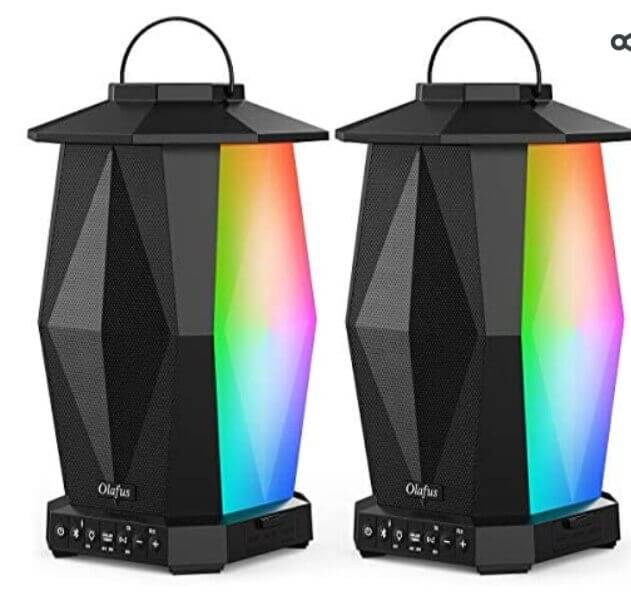 The light is also dimmable. There are five timer settings that you can use to set the lighting. Correspondingly, you can set each light to a 2 hr, 4 hr, 6 hr, 8 hr, or continuous on and off timer.
You can use this light on the porch, yard, and garden. It has a hanging handle that you can use to carry it around or hang it in place when using it outdoor and indoors too.
This device is made with water-resistant material, which makes it fit for outdoor use.
With this in mind, you can use it near beaches or in rainy seasons without worrying that the speaker will stop working.
The battery life of this speaker is impressive. Once you charge it once, you are guaranteed 10 hours of lighting and non-stop full-volume music.
Your search for the perfect Lantern speaker with quality sound ends once you purchase this light. The speakers produce deep bass and a very clear treble.
Besides, you connect many of these speakers with one Bluetooth connection. This is important during parties when you need loud music. Up to 200 speakers can be connected to one Bluetooth source.
This lantern speaker supports both wireless and wired modes. You can connect your Bluetooth speaker to different audio devices. You can also use the supplied 3.5 audio cable to connect the devices and play media of your choice.
Advanced color changing with timer.
60-day money-back guarantee.
Quality sound.
Unique multiple play feature.
Usable in both wired and wireless modes.
Waterproof.
Easy to connect Bluetooth with other devices.
Does not connect to all device types.
The connection is frequently lost between the speakers.
4. Westinghouse Intelligent 2-In-1 Solar Bluetooth Speaker LED Lanterns
You can use this LED speaker anywhere you want. You can easily connect it to your phone or tablet, whether android or IOS, to play music of your choice.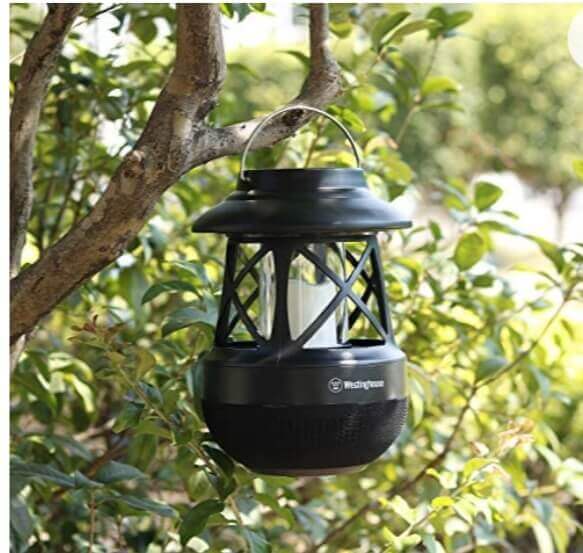 One unique feature that should make you purchase this LED Bluetooth speaker is the dual charging system. In the first place, the LED speaker can be charged by exposing it directly to the sunlight. You can also charge it using the USB cable provided by connecting it to a power source.
Portability is another factor that should make you consider this LED Bluetooth speaker for purchase. It is lightweight and can easily be moved from one place to another, and packed efficiently. The ring on top of this LED speaker enables you to carry the speaker wherever. The excellent lighting and music experience will follow you wherever you go. The ring also ensures that you can hang the speaker at specific places for better lighting and listening.
You are assured of excellent battery life with this LED speaker. When fully charged, you can use the LED light for 48 hours. Music can play non-stop for up to 7 hours.
Great battery life.
Great sound quality.
Sturdy.
Dual charging systems.
Portable.
Easily connectable to audio devices.
The light is not bright enough.
The sound is not loud enough.
4. Vtretu Portable Night Light Wireless Bluetooth Speaker
Features
This portable LED light will meet your need for different lighting modes. You can change the lighting from warm light to cold light or fast strobe. In addition, you can easily adjust the brightness of the light to the level you need.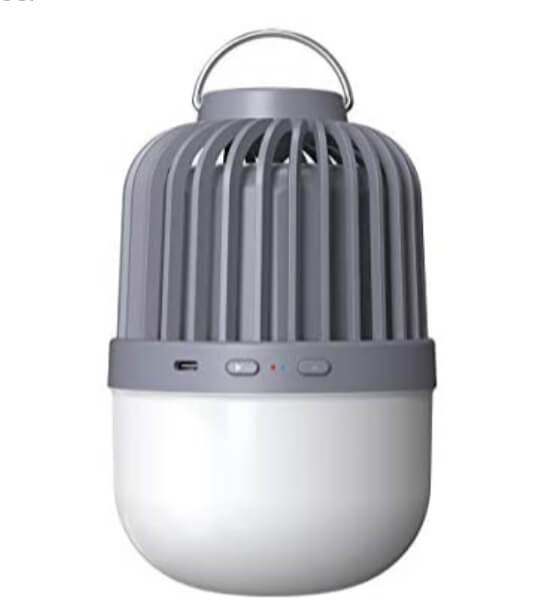 With no doubt, you will need to purchase this light if you love listening to good music. The inbuilt Bluetooth speaker is compatible with a variety of audio devices.
The sound is clear with a rich bass hence making your listening experience better.
An outdoor used device should be portable. This light with Bluetooth speaker gives you precisely that. It weighs 0.88lb.
You can carry it around both indoors and outdoors. During outdoor activities such as camps, you don't need to have batteries anymore. All you need is to charge this device and leave.
A unique feature that you will enjoy by using this night light device is the aromatherapy oil diffuser. This diffuser fills your surrounding with a pleasing fragrance. What more could you ask for when relaxing on your house's porch? This feature makes the device a perfect gift for your friends who love aromatherapy.
Great sound quality.
Different lighting modes.
Portability.
12-month money-back guarantee.
Excellent battery life.
Durability.
Few control buttons.
It is not waterproof.
Our Top Two Picks
The following three are the best outdoor hanging lights with Bluetooth speakers.
1). Olafus Outdoor Bluetooth Speakers Waterproof Wireless Lantern Speakers With LED Mood Lights
This one stands out among the rest. The color-changing effect is superb, with more than eight colors involved. The colors can be set to change using the timer. Further, its sound quality is the best among the rest. It is also the only one that is waterproof. The battery life is good too. In the light of all these, it's the best of the rest.
This night light speaker is cheap and straightforward. Besides having three light working modes, it is the only light among the rest that you can choose cold light and warm light. The aromatherapy diffuser that ensures you enjoy a lovely fragrance when using this light makes it stand out.
2). Westinghouse Intelligent 2-In-1 Solar Bluetooth Speaker LED Lanterns
This lantern comes third because of its dual charging methods. When there is no power, you will have the sun to charge your device. It is connectable to all audio devices and has impressive battery life.
How to Choose Hanging Light With Bluetooth Speaker
The following key points should be reviewed when searching for the best outdoor hanging lights with Bluetooth speaker;
The Lighting
There are light Bluetooth speakers with bright lights and dim lights. Know your preference first before making the purchase.
Sound
The purpose of the Bluetooth speaker is to play media through your device. Therefore, you should ensure that the sound quality of the Bluetooth speaker in the lamb is superb.
Battery Life
Everyone enjoys devices that you don't have to charge now and then. Battery life is also essential for outdoor use.
Bluetooth Connectivity
The light Bluetooth speaker that allows connection to the furthest distance should be the priority. Thus giving you more freedom.
Portability
You should be able to carry your device easily from one place to another.
Conclusion
Lights with Bluetooth speakers are a modern way of enjoying and relaxing. You should always consider all the features before deciding to buy. To get more choices for lighting solutions, read about the best ceiling lights with Bluetooth speakers and explore a variety of choices before buying.
Ensure that you also read the customer reviews of different lights with Bluetooth speakers to get to know how the customers got along with them before buying yours. For your bathroom, check the best lavatory ceiling lights with Bluetooth speakers for more choices.