Wireless technology has revolutionized the headphones world, and children have not been left behind. To explore more on the wireless options, here is a comprehensive review of the best Bluetooth headphones, safe for kids, toddlers, and tweens.
Having a pair of fitting, safe, and fancy headphones is vital for kids who like listening to music and watching programs on phones and tablets.
Kid headphones have safety features that protect your child's ears, unlike normal headphones. These headphones play a big role in making your child busy and you eventually can have some free time.
The Bluetooth feature which connects easily with media devices is the main distinguishing factor between wireless headphones and wired headphones.
Best Wireless Headphones for Kids, Toddlers and Tweens
| | | |
| --- | --- | --- |
| Product Name | Main Selling Point | Buying Link |
| 1. Mokata Volume Limited Kids Headphones | Safe Headphones for all Kids | |
| 2. LilGadgets Untangled Kids Headphones | Best Headphones for young boys | |
| 3. Puro Sound Labs Headphones       | Most Lightweight Headphones for Toddlers | |
| 4. Veroras Unicorn Kids Headphones       | Fancy headphones for Tween Girls | |
| 5. Riwbox CT-7  Cat ear LED  Bluetooth headphones.   | Best Bluetooth for Young Girls | |
1. LilGadgets pro untangled – Best Wireless Headphones for kids
Your search for overall best kids headphones ends once you have these headphones.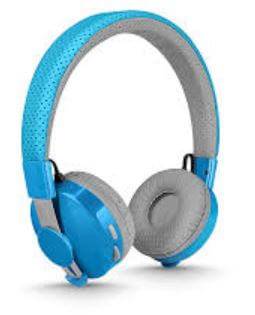 The metal extenders ensure that these headphones serve you for long periods of time.
What is in the box?
Headphones
Usage manual
Microfiber travel pouch
Audio cable
USB cable
Finding comfortable headphones for kids have recently been a problem but thanks to LilGadgets untangled kids' headphones.
They are designed with a soft touch breathable material that covers the headband and the ear pads to give your kid the much-needed comfort.
If you are trying to control the volume your kids listen to, the 93db volume limiter in LilGadgets untangled pro headphones help do that, protecting your kids' ears from damage.
If you want wireless headphones that can play for long hours for your kid, then this is your choice. The LilGadgets untangled kids' headphones have a good battery for that.
In fact, their battery life lasts for up to 12 hours in active use, and with a 180-hour standby.
You will need to use the audio cable provided when the battery completely drains and there are no other options available. It is not bad to go the old fashioned way sometimes.
These headphones are not only designed and tested to fit on the heads of kids of all ages but also come in different colors that make you choose the type you and your kid prefer the most.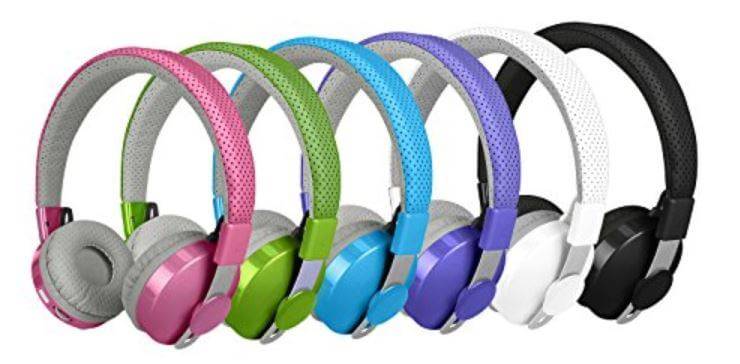 Need to share media is fulfilled by the SharePort technology which allows you to connect multiple headphones to one media device without special cables.
Long battery life.
Quality sound with strong bass.
Compatible with all Bluetooth devices.
Bright colors loved by children.
Easily portable.
Suitable for travels.
Media is sharable
Durable
Comfortable
Low-quality padding material that starts peeling off.
If not fully charged Bluetooth has problems pairing.
USB plug may become loose after a while.
They are not loud enough
2. Mokata Volume Limited kids' headphones – Safest wireless for toddlers
Headphones that protect your kids' ears and protect them from hurt are the most important and the best. These headphone's lightweight design and soft ear cups also ensure your child stays comfortable.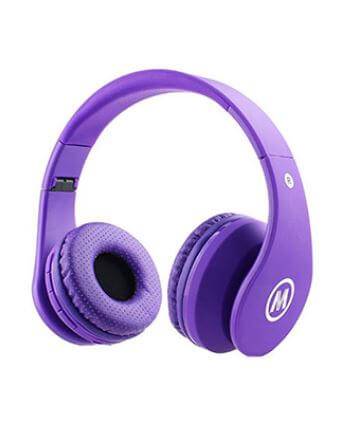 What is in the box?
Audio cable
Charging cable
Pouch bag
Warranty
User guide
Features
These Mokata headphones for kids have a default set volume limiter of 85db which protects your kids' ears.
You can, however, switch the volume limiter to 110db if you are not contented with 85db.
If you are in search of headphones that will ensure your kid stays comfortable, then these headphones are fit for the task.
This is because they have an adjustable headband that can fit different head sizes.
You will want to carry the Mokata kids headphones when traveling because of the foldable design that makes them easy and simple to pack. Your child, therefore, has got a good travel companion in these headphones.
When your kid is using your mobile phone and you need to receive the call without disconnecting the device, the hands-free call and built-in mic enable you to pick calls.
If you need to provide your child with a good entertainment experience you will want to use these headphones with a battery that lasts for 5 to 6 hours after a full charge and up to 60 hours standby time.
Not only do these headphones have an eighteen-month replacement warranty but they also have a money-back guarantee within 30 days of purchase.
Travel companion.
Comfortable
Superb sound quality
Adjustable to fit different head sizes
Safe listening
The charging system spoils easily.
Bluetooth disconnects from time to time.
Breaks after a short period of time.
3. Pro Sound Labs kids' headphones – Most Lightweight for Kids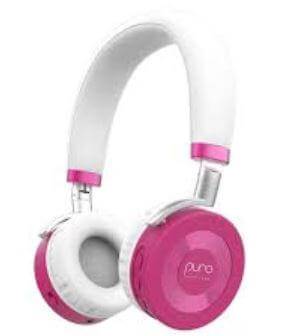 What is in the box?
Audio cable
User guide
Charging cable
Travel bag
The main Features
If you are looking for headphones that will protect your child's ears and prevent noise-induced hearing loss, Puno Sounds Labs kids' headphones fit the task for they limit harmful volumes over 85db.
Sound-optimizing Puro Balanced response curve solves your need of good sound quality and helps in isolating noise up to 87%.
You will want to use these headphones for they offer maximum comfort no matter how long your kids wear them because of the plush vegan soft leather that is on the headband and the ear cups.
The headphones have an adjustable headband that fits heads of different sizes. The need to play from one audio device is catered for in these headphones through the daisy chain technology.
You don't have to carry multiple audio devices during travels to be used by your kids anymore. This also reduces fights among your kids on who has to listen.
You are guaranteed long hours of non-stop entertainment experience, thanks to the battery life which can play for 22 hours and 260 hours standby.
The audio cable ensures your kids' entertainment is not cut off due to power shortage by switching to the wired mode. Your kids can learn to operate the headphones without asking for help because of the presence of large control buttons.
Foldable and compatible design.
Usable in both wired and wireless modes.
85db volume limiter.
One warranty.
Great sound quality.
Comfortable on the Childs head.
Long battery life.
Daisy chain technology.
Suitable for travels.
Not compatible with all devices
Bluetooth disconnecting frequently.
Features don't
4. Veroras Kids Unicorn – Fancy headphones for Tween Girls
These are high-quality headphones with several features that are liked by children. These features included cat ears and LED lights.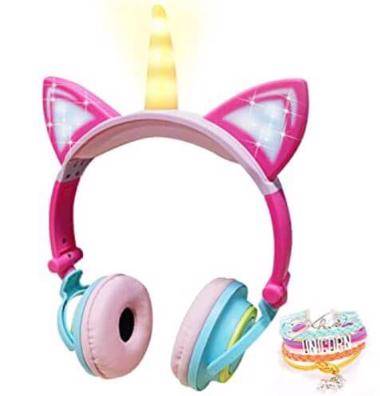 These headphones are adjustable to the extent that even grownups can use them.
What is in the box?
1× cat ear headphones
A user manual
An additional button battery
A color box
Features.
If you are searching for headphones that will meet your kids dream of having music playing from favourite unicorn characters, then the Veroras kids headphones are the perfect fit.
This is because of the LED ears and horns. These features make the headphones more attractive to the kids.
The ear lights will be flashing when you push any button. These features make your kids love the headphones more and use them for long periods.
At the same time, the 85db volume limiter tries to stop your kids ears from harm by making sure that the sound is within recommended levels.
The quality of the sound is great and is reproduced with a headband that is padded and ear cushions that are soft for small ears hence enhancing your kid's comfortability.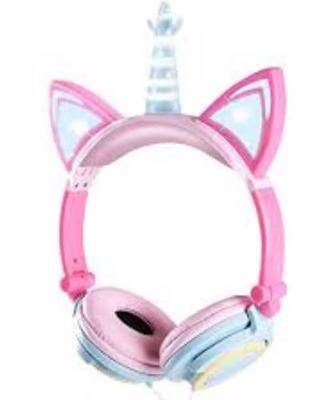 Not only is Bluetooth connectable with all audio devices in the wireless mode but also through the standard headphone jack, the headphones can work with all devices.
Can work with smartphones, tablets, iPads, computers, gaming, MP3 and MP4 devices in the wired mode.
This gives you a variety of options to choose from.
These headphones have an adjustable and portable design thanks to the ear shell.
This shell is freely rotatable and the headband that can stretch 3-5 cm either up and down making headphones fit different head sizes.
The ergonomic design of the headband makes it stay on the head with no pressure making your child stay comfortable.
These headphones are suitable for you when travelling because they are portable and can be packed easily.
Superior sound experience.
Adjustable and foldable.
Comfortable on the child's ears.
Child pleasing features.
18-months warranty.
Used in both wired and wireless modes.
Suitable when traveling.
Battery drains faster.
Volume control is not great
5. Riwbox WT-7S – Best Bluetooth Headphones for Tween Girls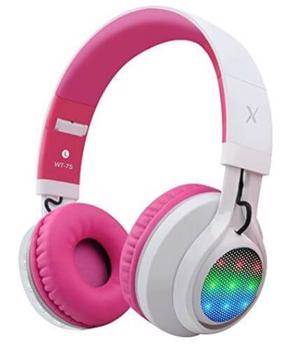 What is in the Box
Speaker
USB line
User manual
Audio cable with mic
Warranty card.
Features
You will want your kids to use these headphones because they combine elements of music, lights, color, the cat-ear with red, blue and green LED. These colors change depending on the rhythm.
The features of Riwbox WT-7S Bluetooth headphones will absolutely attract your kid and will be glued on the headphones for long periods hence getting some time for yourself.
Ever wanted a pair of Bluetooth headphones that you and your tween daughter can operate or control easily? Then look no further.
These headphone's connection status is shown on the screen of the device being used and a voice reminder is available for battery level.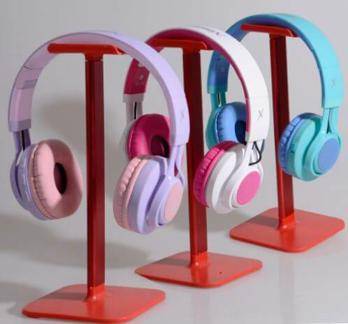 Switches for control are located on both sides of the headphones. Both wired mode and wireless mode are available.
Riwbox WT-7S Bluetooth headphones also fit well on the kid's head.
There are a variety of sizes to choose from, some of which can fit on older people's heads too.
This makes the headphones comfortable on your child's head.
These headphones also have a foldable design which not only enhances flexibility and easy packing when traveling but also helps you avoid mishandling.
The headphones are made of strong plastic which enhances the durability of your headphones.
A powerful 40mm speaker with Bluetooth 5.0 technology provides you with a rich listening experience. This makes Riwbox WT-7S Bluetooth headphones have good sound quality in both wired and wireless listening modes.
Good sound quality.
They are comfortable on the head.
The base is strong.
Adjustable to fit different head sizes.
They are of different colors.
Suits many different events.
Can be used both in wired and wireless modes.
Volume control is not great and require frequent check-up
Get loud and can damage ears
Battery drains faster
Not suitable for long distance travels
Final Take
Wireless headphones for kids have made people forget about wired headphones for they have improved all headphones aspects.
After we determined that Bluetooth headphones are safe for toddlers, the only challenging task for you is to choose the better ones from a variety of headphones.
If your kids are older, check our guide for the best headphones for teens and tweens and get a more age-appropriate selection.
Before purchasing one, research, compare and contrast features, pros, and cons of different headphones. You can check a variety of Bluetooth headphones for kids.
When you select the best choice for your kids, watch this video to understand the safety and risks of using them.