Beats headphones were developed in mid-2000 by Dr. Dre, a hip-hop artist. Beats brand has various gadgets, including earbuds headphones, phones, and computers. Beats headphones are capable of producing a sound that producers and musical artists hear in recording studios.
Working out with beats headphones is good because they are a secure fit as they wrap around the neck and over the ear. They are lightweight and suitable for runners. In addition, their battery life is good, with a few minutes of charge going a little over an hour.
In the guide on buying Bluetooth or wireless headphones, we explored the ways of determining the best headphones, and Beats is one of them.
Below are the top 3 Beats headsets good for working out;
1. Powerbeats Pro Wireless Earbuds – Apple H1
Very Comfortable fit during workouts
Does not fall when working out
1. Powerbeats High-Performance Wireless Earbuds
Softest and comfortable
Sweat-resistant
1. Beats Flex Wireless Earbuds – Apple W1 Headphones
Comfortable in-ear fit
Lightweight for running too
The PowerBeats pro wireless is one of the best sports earphones that are wireless. Beats brands also offer the best headphones in the gym, fitness, and sports, and for running.
Features good for working out with Beats headphones
Working out with beats headphones is the best experience because they have various features that make them suitable for any workout. These include:
The battery life of 12-hours
Some are sweatproof, weatherproof and waterproof
You can control your music as well as make calls or easily answer calls
Has an inline volume remote to control the volume.
It cuts out ambient sound hence; giving you peace at the gym since it has a noise-canceling technology
There are touch controls at the right earcup
Robust design, sure, plastic but strong enough and solid to endure regular gym trips
Excellent charging for longer listening. A charge level of five minutes being able to give playback of an hour due to their fast-fuel function In fact, it is 2 hours for Beats X.
Is it OK to run with Beats Headphones?
Beats solo3 is a brand of beats headphones. However, it is not meant for workout headphones since they don't have sweat protection. If you sweat much as you are wearing them, with time, the internal electronics and ear pads will get damaged.
Most manufacturers advise against working out with their headphones because excess sweating causes problems created by moisture damage.
Firstly the sound is destroyed as moisture from the sweat gets into the components of the internal electronics of your headphones. Secondly, sweat is corrosive.
However minimal exposure to sweating is fine so long as you clean it off after use with a piece of cloth.
How to Protect Beats Earphones from Sweat while running
For maximum protection of your beats, headphones always carry with you a bottle of sanitizer or antibacterial wipes in a pack.
Make sure you use them regularly to wipe your headphones even in between workouts, as doing this will reduce the number of bacteria that will be on the cushions of your headphones.
Make use of Earhugz to stop your beats headphones from being damaged by sweat. Earhugz was created and designed to stop sweat from killing the beats.
Earhugz is a headphone cover that is sweat-resistant, and they directly cover your beats headphones cushions. They keep sweat away from the headphones' delicate electronic components.
A cheaper way of protecting your beats headphones is by sweat proofing, other than buying a set of beats for replacement. Another option of protecting your beats headphones is switching to earphones to protect your headphones from damage by sweat.
Out of excess moisture, earphones can break. However, the damage caused by sweat is reduced as the earphones settle on the ear canal other than on top of the ear.
Observe earphone hygiene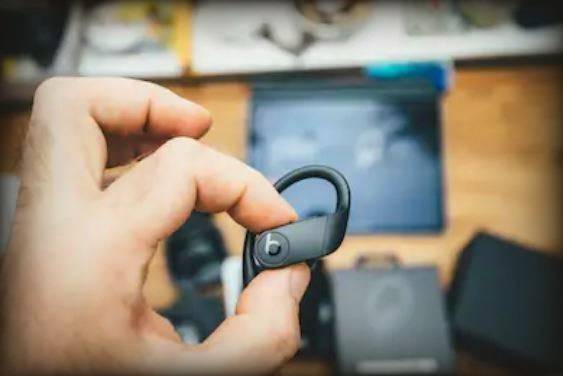 Observing earphone hygiene is very vital since earphones can generate bacteria almost 11 times the sum of bacteria inside the ear canal.
This is caused by carelessness and wrong handling of the earphones, done by throwing them at the bottom of gym bags, wrapping humid clothes around them, or putting them on tables and benches.
If the silicone bud has moist wax, it becomes easier for bacteria to attach to the earphones. Therefore it is advisable to clean them regularly.
Leaving your beats at your home is another way of protecting them though it is an unhelpful option since you bought them for use at your workout sessions.
It is stated that music can raise athletic performance by 15%. Therefore leaving them at home does not allow you to enjoy their services however this protects your best headphones 100%.
How to Clean Beats Headphones after Working out
Your beats headphones collect a ton of dirt after staying all day on your head. They pick bits of dirt, sweat, and dust. Therefore to keep your beats in good shape you should clean them properly and care for them. Follow these tips to clean your beats headphones.
Use a very soft cloth if the dirt is not visible, after using your beats for the day working out, remove them from your head and wipe them with a microfiber cleaning cloth. See to it that you clean the whole of the surface area, including all ear cups, the band, and lightly wipe off the dust on the padding.
You should also clean the oil and smudgy sport that may have been left by your skin on the headphones. Slightly dampen the cloth and wipe the smudgy or oily sports. Only make sure not to use a lot of water in case your beats are not the water-resistant type
Try using a cotton swab on pesky dirt spots; if you notice grime, smudge or little dirt that hasn't gone away after wiping your beats headphones, then a cotton swab will complete the job.
Do not use cleaners, avoid the use of solvents aerosol or any abrasive cleaners to wipe your headphones, because they will ruin your headphone's finish and cause them to seem dull or damage the color.
If you follow these tips and clean your beats headphones regularly they will stay looking good and clean as the day that you purchased them and prevent grime, dust, or dirt build-up that will interfere with performance over time.
Are Beats Headphones Sweat-Proof?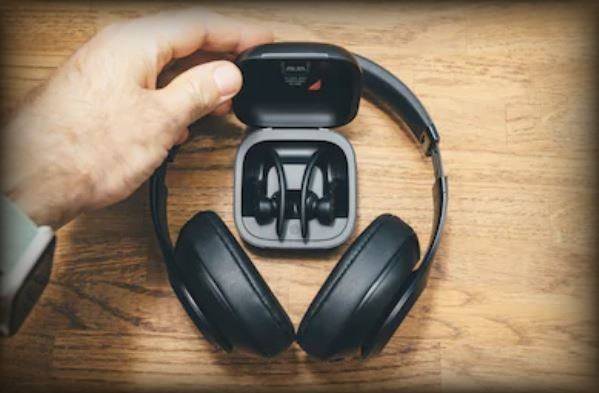 Yes, there are various beats headphones that are sweatproof. Most of them are true wireless meaning there are no wires between your Smartphone and the earpiece.
The absence of wires flees the range of motion.
Sweat-proof headphones have additional features like internal microphones, corresponding apps, and GPS tracking.
Sweat-proof beats headphones come in a variety of colors, sizes, and styles.
Outlined below are the other of the best sweatproof headphones.
PowerBeats by Dr. Dre, these are water-and sweat-resistant headphones, and the battery can last for 12hours, what's more, is that a short five-minute charge will give you an hour of service, you don't have to worry about missing your next workout session.
Plantronics Backbeat FIT 2100, it has a battery life of seven hours, this model was updated in 2018. The recent model sounds, function, and looks far better than the former Backbeat FIT. You can connect your headphones onto the PLT Backbeat app then select each stylish metallic earpieces function. Its "Always Aware" feature allows you to hear noise from your surroundings. The Plantronics are waterproof, sweatproof, and durable.
JLab Audio(Flex Sport) an over-ear headphone with polyester/cotton ear cups that wick away sweat making them sweat-proof, it has an unbelievable battery life of up to 20 hours
Phiaton BT 220 NC Wireless Bluetooth Headphones – Their wingtips plus RightFit fits securely in your ears than other wire-free buds. They have a clear, crisp sound and a powerful Bluetooth 5 connection. Its battery life is 5hours. You can control them with on-bud buttons and most of all it has a Bluetooth feature.
Sennheiser CX 400BT, they are comfortable, secure and also isolate sound nicely. They connect automatically to multiple devices. Therefore, you should not forget to detach them from your PC before you go with them for a run.
Final Word
While there are many options out there, working out with beats headphones is good if you select the right one. It is good to know how to maintain the headphones that you use for working out.
You can learn this on our guide about headphones for working out. You will get to know how to protect your headphones from sweat and also how to maintain them by cleaning, them with tips on how to clean them. Therefore you will have an easy time choosing which brand best suits your needs.