Ladies love pink, the color, and that translates to their love for pink headphones. Pink headphones have a way of making a statement and standing out in a crowd.
Sometimes that's just what every lady needs, especially if they are Bluetooth. I'll give you a list of the best headphones for a lady.
Whether you are searching for wireless earbuds or wood grain headphones, you are on the right page. 
If you are in a hurry, here is a quick list of the best 3
Has very soft earpads for lady skin.
The best on-ear headphones for women
Portable and Foldable design
The best ladies' headphones with a mic
Unique earbud design for ladies
Lightweight for ladies
Best Pink Bluetooth Headphones for Ladies
In this post, we explore 5 of the most common pink Bluetooth headphones that are good for ladies and their features as well as their pros and cons.
Let's delve into each of them in detail
1. Ghostek soDrop – Wireless Headphones with Mic for Ladies
Ghostek soDrop headphones maybe every girl's best friend, though their price is on the higher end, they are the best pink headphones on the market.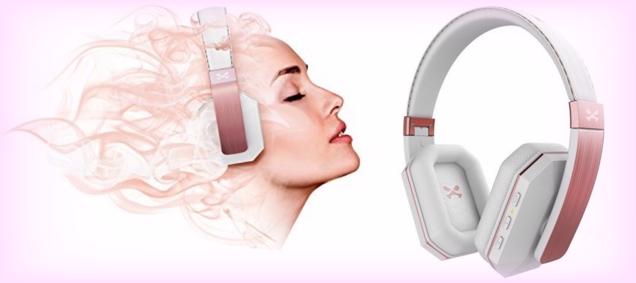 In addition, they have a great look and great sound as well as excellent noise reduction technology.
Ghostek soDrop 2 Wireless Headphones have wireless connectivity for Bluetooth. These pink headphones have the whole package.
Ghostek frequently offers discounts or sales on multiple orders. They also come in different colors in case pink is not your color.
Pros
Crystal clear HD sound – you can listen to these headphones from Ghostek on full blast volume.
Bi-Directional technology, for noise reduction that allows you to enjoy CD-quality sound.
Has a technology feature of aptx Bluetooth 4.0 that gives rich sound for all types of music.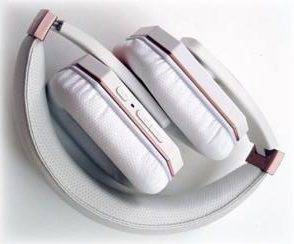 Some Unique Features
Brushed Aluminum and best quality soft leather Accent of the Ghostek soDrop.
From 30 Feet distance, you can link the soDrop2 to all Bluetooth enabled devices.
The ear cup has a microphone that allows making calls without removing the headphones.
Ghostek has a detachable 3.5MM Male to Male audio line able.
You can put on these headphones for many hours, and your ears will not feel tired.
2. Beats Solo 2 – Best Wired On-ear Headphone for women
The recent pink beats from Dre come in second to the Ghostek pink headphones. However, Solo 2 is the ultimate pink Bluetooth headphone that any lady will love.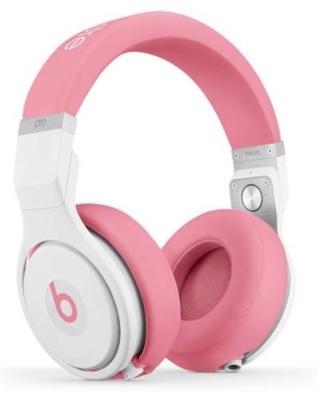 Everything you would like about beats is there, including rich bass and a better lightweight style.
Beats Solo 2 WIRED On-Ear Headphones are also accompanied by the beats price tag that is they are not cheap.
It has some cool features like call answering system in cord Mic for remote talk.
It also has a daisy chain that allows you to enjoy listening to music together with your friends.
The renewed Beats Solo 2 WIRED On-Ear Headphone is not wired, which means there is no option for Bluetooth.
You also don't need a cord for its level of sound quality. It is one of the best pink headphones for ladies in the market.
Pros
Quality sound
Not wired
Allows multiple listening
Lightweight
3. Symphonized – Best Pink Earbuds for Ladies
Symphonized has stayed on top for the past year from their continued renovation of excellent earbuds. Their NRG brand has wood accents that are very elegant. They are a perfect backup option if the headphones are not doable.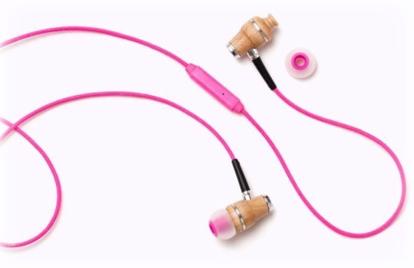 They are great for working out since they are built-in with water resistance.
Additional Features
Comfort-fit that comes in three sizes (S/M/L) with silicone ear tips that guarantee a cozy fit for everyone.
In-ear canal unique design: They cancel noise for the unprecedented audio experience.
The earbuds have a nylon cord that is sleek and tangle-free which comes in fourteen colors
Symphonized earbuds with their stylish design and good sound quality are compatible with all the latest generations of iPhone, iPad, and iPod. They also work with all mp3 players tablets android and other related devices using a 3 .5mm jack.
It is handcrafted with genuine wood.
They produce a strong deep bass and a powerful acoustic sound.
Has a convenient carrying pouch that is eco-friendly
Very easy to use-  End or answer calls
Active voice control
In-line microphone built to skip tracks
It is an in-ear earphones, which limits those who do not like such.
4. Skullcandy Uprock – Best Pink Headphones for ladies
Skullcandy has always had an advantage over the success of other, more expensive brands.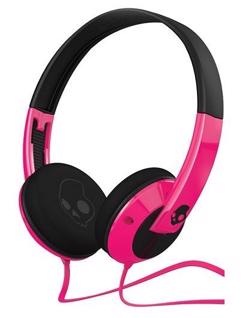 The Skullcandy pair is in contrast to Dre's pink beats.
Uprock produces good sound quality and has a chintzy-feeling plastic design though its price is very high.
These are wireless earphones with Bluetooth.
They are the best wireless headphones for ladies for sports gym exercise and running they come in pink and silver colors.
Unique Features
Powerful bass and incredible HD sound, well-balanced trebles, and mids plus outstanding volume.10mm drivers are producing crystal clear sound.
Extremely stable to wear and comfortable- they are designed with strenuous exercise and extended wear in mind.
They fit well with headbands or sunglasses and come with a package of seven sizes of earbuds accompanied by an extra small size and noise isolation foam tips.
Sweat-Proof- lifetime protection, against sweat and water, including IPX7 water resistance.
It has a built-in dual pairing and noise-canceling microphone that provides the turbo the flexibility to run a whole day anywhere you choose to be.
Pairs with all Bluetooth devices and easy to use- they are perfect for android cell phones Mac and Windows computers, iPod, iPad, Bluetooth TVs, apple watch, Fitbit Garmin, and other fitness trackers. All controls are within the earphone body, allowing you to be hands-free from your gadget.
Purchase risk-free Bluetooth headphone, with thirty days refund policy and twelve months replacement warranty.
Pros
Has a cord length of 1.3 m
Its drivers are 40 mm
Made of TPE material for the cord and neodymium for the magnet.
5. AKG Y100 – Best Bluetooth earphones for women
AKG Y100 Bluetooth earphones are in-ear headphones, built with 4.2 Bluetooth version.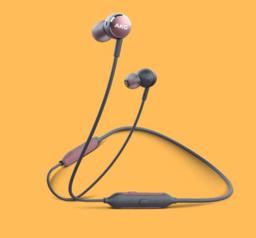 It comes in many colors, including pink. The Bluetooth abilities of these earphones are superb.
What makes AKG Y100 among the best pink Bluetooth headphones for ladies is that two devices can be connected to it at once.
Its battery lasts for 8 hours when fully charged.
The pair has an in-built Mic which can be used to receive your calls.
It weighs only 24kg hence you can wear it around your neck the whole day and not even notice it.
Pros
Samsung Electronics AKG Y100 Bluetooth Wireless Earphones
Long playtime with each charge- 100 mah battery gives a week of workouts with only one and a half hours of a single charge.
Looks unisex despite the pink color
Cons
Pink color associated with ladies
Unique Features
Comfortable, durable design: The neckband is crafted from flexible, soft materials that adjust to your necks shape; hence, you can put it on all day.
MULTI-Point connectivity: Can connect two Bluetooth devices at a go and your headphones shall automatically switch between devices.
Long-lasting speed charge battery. The pair has a charging time of two hours and can last for eight hours.
Speed-charge: 15-minutes of recharge will give you an extra hour of music.
What to consider when choosing headphones for ladies
As previously discussed, there are factors that you should consider when choosing Bluetooth headphones.
These factors include comfort and fit, noise cancellation, sound quality, materials used to make the headphones, water resistance, and price. You should also consider the purpose of buying a pair of headphones.
Be it for sports, traveling, or listening to indoors. This will guide you in choosing the headphone with the features that best suite your purpose.
At the same time, consider the use. For instance, when traveling, you need to go for one with excellent sound quality and noise cancellation, for sports, you need to choose one that has a water resistance feature.
When using headphones for indoor purposes you can select one with a multi-point connectivity feature so you can enjoy two Bluetooth devices and be in a position to switch between devices.
Final Verdict
There you have it, pink color lovers. I've tried to round up the best pink Bluetooth headphones for ladies.
It will help you to choose the brand that best suits you and also learn the features of each brand.
That's it my fellow pink Bluetooth headphones lovers. I hope the above review will guide you to choose your best pink Bluetooth headphone.
Fun Fact: Do you know that even some men do wear pink headphones? Watch below why Faze Jev wears pink headophones.