Nothing raises your adrenaline more than having attacked or killed your enemy in your favorite game. The fulfillment is unexplained if your enemy was a bit cunning. That you needed to listen keenly to know his hideout place and eventually attack him.
To achieve this, you need the most efficient sound whoring headphones. Here is a review of four of the best sound whoring headphones.
If you are in a hurry, here is a quick comparison table for the four headphones best for sound whoring
| | | |
| --- | --- | --- |
| Headphones name | Unique Selling Point | Buying |
| NUBWO Gaming headsets | Comfortable material of Faux leather | |
| SteelSeries Arctis 7 wireless gaming headsets | Soft for the skin. Premium woven ski goggle fabric | |
| RUNMUS Gaming Headset | Has ergonomic design and fit | |
| ASUS Gaming Headset ROG Centurion | Environmental friendly material ideal for long wear and reduces heat sweat | |
Best Headphones For Sound Whoring
1. Sound Whoring NUBWO Gaming Headsets
The Nubwo Gaming headsets have faux leather ear cups and a padded headband which gives you ergonomic comfort even as you enjoy your game for long.
In addition to the soft ear cushions, and the multi-function wire control ensures you are not fatigued. The headband takes care of the different head shapes owing to its 180 degrees extendable quality.
To enjoy gaming with your various gadgets, the Nubwo headsets offer versatile compatibility.
For example, it supports Xbox 1, PS4, mobile phone, laptop, PC, iPad, tablet, PSP, and more.
Furthermore, you will enjoy a surround sound and base response alongside the clear voices from your video games.
The omnidirectional noise cancelling mic is able to reduce and eliminate surrounding noise thereby enhancing sound whoring.
As you enjoy your game, you are able to mute the mic from the headset directly and at the same time control the volume.
The disadvantage of the Nubwo gaming headsets;
The Headphones are compatible with numerous gadgets, however, to enjoy them with the Xbox you will need a One Stereo adapter which is not included in the package.
2. SteelSeries Arctis 7 for Sound Whoring
The SteelSeries has been in the gaming industry for over a decade, as a result, their gaming products are creatively innovated to improve their performance for passionate gamers. The following are some of the advantages of steel series arctic 7 wireless gaming headsets.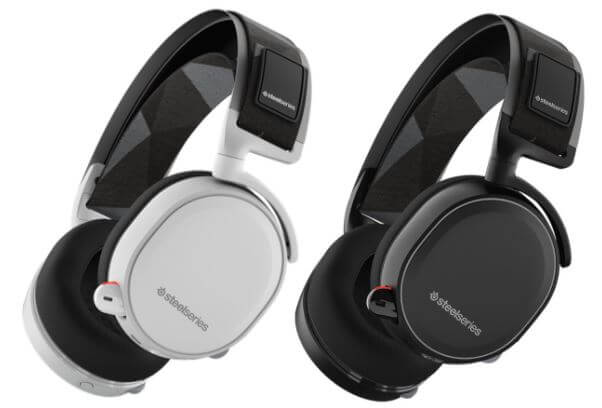 These headsets offer you continuous play owing to their 24-hour battery life.
The headsets combine battery life with ultra-low latency for premium gaming sessions.
Up to the present time, Arctis is known for its sound signature and Arctis 7 is no exception with critical and subtle sound.
Besides, you'll enjoy noise cancellation and superior clarity from the microphone.

The surround sound feature of Arctis will make you lose yourself in the game. For this reason, every engine roar, ricochet, and the shuffling zombie will come to life.
For comfort to your ears, the headsets come with AirWeave ear cushions that will keep your ears cool and dry.
The headband is made of durable lightweight steel and elastic woven ski fabric. Consequently offering a perfect contour across your head by reducing pressure points and distributing the weight.
The issue with Arctis 7 headsets is that they are only compatible with the following gadgets only- mobile, switch, Ps, Mac, and Pc.
3. Runmus Gaming Headset
As a game enthusiast, you will be able to hear your enemies before seeing them with the Runmus gaming headset. The 7.1 surround sound delivered coupled with the highly responsive audio drivers enables you to identify the direction from which sound is coming.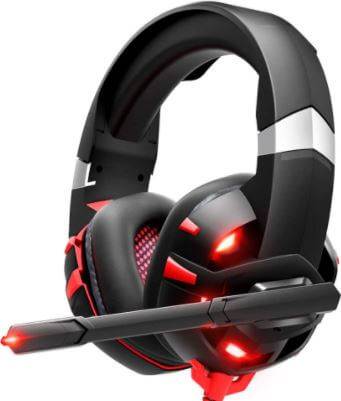 Your gaming experience is enhanced by having a headset that is cool as attributed to its fascinating LED light which goes on once you plug in the USB jack. The microphone is turned off by flipping the switch.
You will comfortably move around with these headphones guaranteed of their durability as the materials used are premium and will also enjoy them with multiple devices.

Wearing comfort is guaranteed thanks to the headphones' breathable ear pads and the expandable band making it ideal for all kinds of people.
In case you encounter a problem with the headphones, you are guaranteed 24-hour customer care support and you get your reply in the shortest time possible.
The disadvantage of Runmus headsets is that it is a wired headset, therefore, does not provide mobility comfort.
4. ASUS Gaming Headset ROG Centurion
These headsets come in improved human body engineering specifications. For example, they offer superior comfort and good air permeability ear pads. They can also reduce hearing impairment and heat sweat.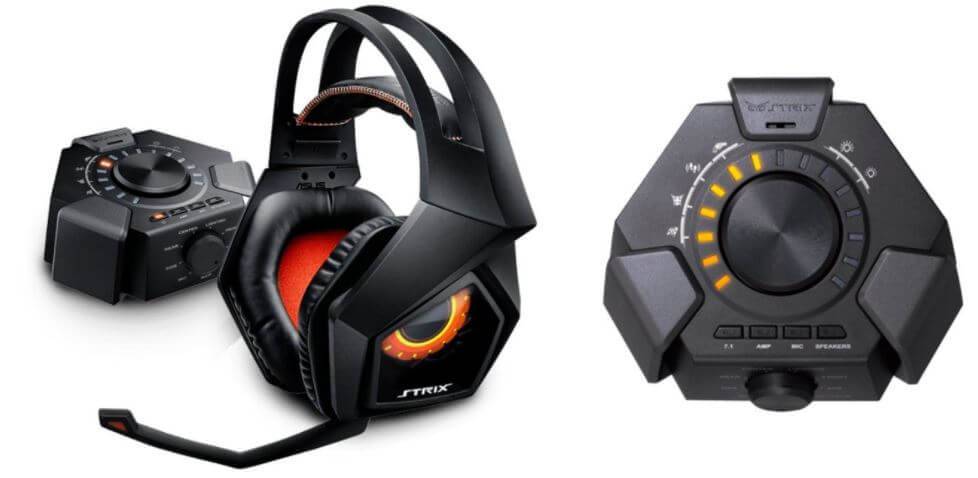 The leather used is skin-friendly ensuring you enjoy your games for long and with ease.
The headset also has blazing LED lights at the earcups which gives you a cool gaming experience.

ASUS ROG Centurion gaming headsets offer you that powerful and crisp bass surround sound.
You will also experience a comfy feeling attributed to the soft texture, a delicate and comfortable touch, and a high-grade wearable TPE.
It comes with an in-line control box with a one-key mute and a volume wheel which enables you to adjust the 120° flexible microphone and volume while playing your game.
This benefit makes the headphones ideal for games such as Call of Duty, Halo 5 Guardians, Star Wars Battlefronts, Metal Gear Solid, World of Warcraft Legion, Overwatch, etc.
The only disadvantage of ASUS ROG Centurion is that its bass sound is a bit heavier
Wrapping Up
Besides enjoying your favorite game any time you wish, you also need to have outstanding accessories. Headphones will enhance your gaming experiences.
Consider the sound quality of your headphones. Research before buying on how the headphones take care of your ears.
Lastly, noise cancellation and compatibility with numerous gadgets are key for an enjoyable gaming experience. You don't need to keep on asking everyone around you to keep quiet as you listen to your gaming enemy, get the best headphones for sound whoring.