Do you wish to listen to your TV at home but you cannot hear clearly? This may be a problem since you may not enjoy it if you have hearing impairments. If you increase volume, you may hear TV yes, but you may end up disturbing others. But headphones can come in handy for those hard of hearing.
In this guide, we review the best 4 wireless TV headphones for the hard of hearing so that you can enjoy your TV without disturbing others.
You will always find the prospect of having your TV headsets exciting, and the process of getting the right one can be intimidating. To make the moment better, I have found four of the best Wi-Fi Headsets for TV and reviewed them for you.
If you are in a hurry, here is a quick comparison table;
| | | |
| --- | --- | --- |
| Product Name | Weight | Buying Link |
| 1. ARTISISTE Wireless TV Headphones Over-ear | 0.8 Ounces | |
| 2. SIMOLIO Wireless TV Headset | 1.1 pounds | |
| 3.Sennheiser RS 175 RF Wireless Headphone System | 10.9 ounces | |
| 4.Sony MDRRF995RK Wireless RF Headphone | 1.1 pounds | |
Best Wireless TV Headphones for Hard of Hearing
With the review of these four best Wi-Fi Headsets for watching TV for hard of hearing, you will be in a position to get one within a small period. Below is a review of such situations for hard of hearing.
1. ARTISTE Wireless TV Headphones Over-Ear
ARTISTE Wireless TV Headphones Over-Ear Headset is among the best TV headset that you can consider when you are on the lookout for an elegant design.
Such a gadget has a composition of high-quality material consisting of a wireless transmission enabling the user to walk around in a range of 100 feet yet listening to music from the TV with a perfect sound.
This type of array is thrice the ability of a Bluetooth enabled headphone of the same function making ARTISTE Wireless TV Headphone the right choice for your purchase.
With ARTISTE Wireless TV Headphones, you can use multiple headsets with a single transmitter in that whenever you adjust the volume; there will be no interference with other headphones making it accessible.
Pros
ARTISTE Wireless TV Headphones are compatible with all devices such as TV sets, PC, Laptops, Computers, and radios.
It has a softly padded headband and over-Ear ear pads to offer comfortability.
ARTISTE Wireless has an excellent battery performance with 20 hours of work in full charge.
ARTISTE Wireless has brilliant sound quality.
It has a steady signal over a broader range of 100 feet.
Cons
ARTISTE Wireless TV Headphones are available in a single color (black).
2. SIMOLIO Wireless TV Headset
When looking for a headset with the most impressive features, SIMOLIO Wireless TV Headset can provide a fantastic option among the best Wi-Fi headsets for TV.
SIMOLIO Wireless TV headset has a built-in microphone for more natural amplification of people's voices around reducing the burden of removing the headphone whenever you are talking to them. You may enjoy a faster connection without delay because no pairing is required.
Are you a hearing-impaired fellow? No worries anymore, SIMOLIO Wireless TV headset has all the solutions to this challenge. Imagine! These consist of a personal sound amplifier function to serve as a hearing aid.
In addition, the headset has control buttons that are used to navigate between modes, for instance, the user may change from TV sound and turn to a personal sound amplifier which is the most distinguishing feature about this type of headphone.
Pros
SIMOLIO Wireless allows customization of sound to the comfort of the user.
FHSS technology provides a robust sound signal that goes through obstacles such as walls and ceilings to a range of 100feet yet maintains clarity.
It has a brilliant battery performance, which is replaceable taking between 7 to 8 hours when charged fully.
The MIC button simplifies the changing of modes like a personal sound amplifier to accurately hear what other people are saying without taking off the headsets.
A wireless TV earbud offers a comfortable round ear fit to enable a long duration of wear.
Cons
Some TV connections may require a new installation of an audio adapter which is an extra expense.
3. Sennheiser RS 175 RF Wireless Headphone System
Sennheiser RS 175 RF Wireless Headphone System is considered to be an excellent purchase for any person who is interested in owning the best Wi-Fi headset for TV.
The Bass Boost and Surround Sound grab the attention of the user by offering a fascinating experience. Here, the bass sound can be adjusted to the user's comfort while maintaining high sound quality and clarity.
RS 175 technology can transmit a clear and accurate signal whereby you can move from one room to the next without distractions.
Sennheiser RS 175 RF Wireless Headphone System has main controls located on the headphones, and therefore, nothing can interfere with an exciting audio experience. The system also comes with a comfortable fit, which is ideal when you opt to use it for a more extended period.
Pros
Has an excellent digital wireless audio transmission.
It is easy to set up and enjoy a transmission range of up 328 feet.
It supports digital and analog input allowing toggling between inputs.
Simplifies switching between dynamic and virtual surround sound.
It is a multi-purpose transmitter.
Cons
Prices are slightly higher.
4. Sony Noise Cancelling Headphones WH1000XM3
Are you looking for the best Wi-Fi headset for TVs to help you enjoy excellent audio services and also be a noise-canceling headset? Then, Sony WH1000XM3 Headphones should, without a doubt, be your best pick.
It comprises noise reduction technology that shields the signal free of distraction from other electronic devices and enjoys your favorite music and a clear sound.
Moreover, Sony noise-canceling headphones WH1000XM3 has a rechargeable battery that can run up to 20hours. Also, the system has 1.57" drivers that ensure the clarity of every audio you are hearing.
With an enhanced 150 feet range, you can move from one place to the next within that radius without losing any signal connection.
Pros
Supports a long transmission range of 150 feet.
It has the most extended battery life of 20 hours from a full charge.
Has built-in automatic tuning that enables high-quality transmission.
It contains soft ear pads for comfort use, making prolonged usage an exciting experience.
Has noise-reducing technology that protects the wireless signal from interference.
Cons
Appears only in few colors
Factors to Consider when buying Headsets for TV
You are bound to have a rough moment choosing the right Wi-Fi Headset for TV if you are new to having used any TV headset before.
There may be different types of headsets currently present in the market, making it even hard for a beginner to choose the best Wi-Fi headsets for TV.
However, the guide offers you some critical factors to consider whenever you are shopping for the headset, especially the honest to listen to TV without disturbing others, as mentioned below: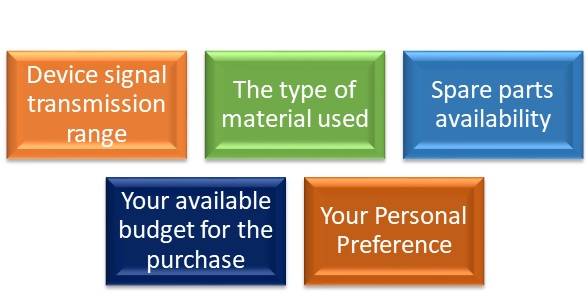 Final Verdict
Ranging from enjoying a clear and quality sound to a comfortable ear fit or getting one as a gift for your friend. The best headphone will vary, explaining why I have come up with a list of four for those hard of hearing and wants to hear the TV without disturbing others.
Once you have bought your headset, check our article on how to connect Bluetooth headphones to the TV, PC, or phone. This review was created to help both experienced and first-time buyers make the right choice by providing a list of the best headsets, their features, pros, cons.