When watching TV, it is advisable the elderly control their own volume. To do this, it is good to have headphones for seniors to watch TV.
This is compounded when there are small kids who may still need a quieter environment to sleep. With such headphones, there are no worries because the sound is under the control of the user.
Headphones can still be a priority on your shopping list especially when buying gifts for your loved ones.
Nowadays, the headphones also reveal someone's personality and boost the self-esteem of the user since they are considered classic. With such information in mind, you can't afford to overlook them when shopping.
Headphones for seniors to Watch TV with
Any good headphone should be able to keep the user comfortable. In this article, we shall discuss the four best headphones that we can recommend when watching TV as listed below.
Product Name
Brand
Materials
Buying Link
1.Sennheiser RS120
Sennheiser
a)TR 120 transmitter
b) rechargeable
2. Unisar Tv Listener J3
Unisar
a) plastic
b) metal
c) soft pads
3.ARTISTE
ARTISTE
a)plastic
b)metal
c)soft pads
4.Avantree HT3189
Avantree
a)plastic
b)metal
c)soft cushions
1. Sennheiser RS120 On-Ear Wireless RF Headphones with Charging Cradle
Are you looking for classic headphones that are light in weight with a clear sound? If yes, then Sennheiser RS120 on-ear type of headphones may be your perfect choice. They have a good sound quality, balanced with clarity base rhythm.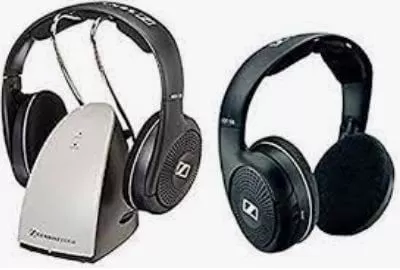 Also, there is a well-padded headband that provides comfort when used for long hours without causing any irritation.
The Sennheiser RS120 on-ear consists of NiMH batteries.
This is recharged by connecting the headphones to the transmitter base.
How about battery life? You can enjoy using a fully charged battery for 20 hours.
While wearing Sennheiser RS120 on-ear headphones, you will be free to roam around within a radius of 300 feet without losing the signal connection. Also, the flexible transmitter can connect directly to any device with an analog audio output.
Pros
They can transmit signals to a range of 300 feet when in operation.
They are light in weight and therefore provides desirable comfort when you wear them for a long duration watching TV.
There are three RF channels where the user can choose an interference-free channel to enable a clear reception.
One enjoys an exceptional sound with a strong bass response due to an Open-Aire design.
The Wall mountable transmitter doubles as a charging unit allowing easy recharge.
Cons
Poor design ac and audio output
2. Unisar Tv Listener J3 Rechargeable Wireless
The Unisar Tv Listener J3 is a particular type of headphone that is best suited for TV listening. With no discrimination to any age, Unisar Tv Listener J3 has a noise canceling feature that gives the user a more natural sound experience.
For those with hearing impaired challenges, these headphones are a perfect choice to them.
Any interference from other electronic devices is under control. To explore more options with this feature, read our article on the best noise cancelling headphones for seniors.
When using Unisar Tv Listener J3, you can move from one room to the next without losing sound signal connection.
Why? The signal transmission range is 300 feet. Also, these wireless headphones have rechargeable batteries that can operate for 15 hours nonstop.
The user will enjoy maximum comfort because the headphones have an adjustable headband with soft ear pads that allow long wearing durations.
While operating Unisar Tv Listener J3 headphones, no interference from radio or other electronic devices like phones can happen. For those who have an impaired hearing, Unisar Tv Listener J3 has a hearing aid feature.
Unisar Tv Listener J3 headphone is light in weight and can work with several headphones at the same time. The headset has a volume control button that helps the user adjust the earphone volume without affecting the capacity of the TV.
Pros
Lightweight and portable
Comfortable
Volume control
Cons
Available in a single color.
3. Artiste Wireless Headphones for TV with RF Transmitter
While looking for the best headphones for seniors to watch TV, consider choosing Artiste headphones for TV. Such type of headphones has 2.4GHz RF, which ensures a strong signal and higher penetrability, and an extended wireless range.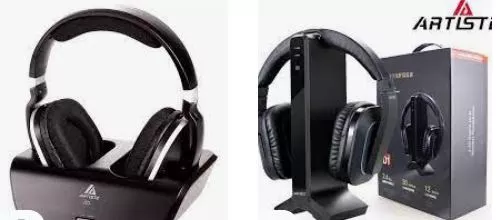 The Artiste headphones have an outstanding battery performance of 20 hours in a full charge as compared to other headphones that generally take 8 hours of working time.
You can use the headphones on many electronic items such as TV, laptop, iPad, phones, tablets because it has an improved compatibility feature.
The 2.4GHZ RF TECHNOLOGY has a strong signal which can penetrate walls and ceilings, transmitting to a range of 100 feet.
The user can enjoy the comfort provided by Artiste headphones because the headband is adjustable with soft cushion materials that cannot cause strain to your head.
The headphones are known to have a brilliant sound quality backed with an extra-base for better performance. At a radius of 100ft, you can still enjoy your audio with a clear sound without the worry of losing the signal connection.
With Artiste headphones, the user takes advantage of a Hi-Fi stereo sound working on a frequency response of 25Hz – 20kHz.You will also enjoy extra bass and crisp treble performance that makes your musical experience an exciting exercise.
The Artiste headphones headband also has a soft pad lining which is adjustable to increase comfort, especially in prolonged usage.
The earpads have a full seal which reduces sound leakage, therefore, preventing any interference to your neighbor who may not be listening to your audio.
Pros
Long battery performance

Multi-use for TV, laptop, iPad, phones, tablets.

Strong signal

Comfortable

Good sound
Cons
Artiste headphones come only in a single color (black).
4. Avantree HT3189 Wireless Headphones TV
When you are in search of a headphone that supports Plug and Play function, then Avantree HT3189 headphones can be a perfect choice.
Here, you begin by powering the Bluetooth transmitter (Priva III) and Bluetooth headphones (AS9S) whereby they will connect automatically without pairing.
With 4. Avantree HT3189 Wireless Headphones TV, you can operate entirely in a range of 100 feet while maintaining a strong signal.
We also found another Avantree as a pair of headphones good for seniors in another guide. Also, multiple audio outputs are supported by this device. You will also enjoy the playtime of over 40 hours.
The Avantree HT3189 Wireless Headphones for TV Watching consist of earpads together with easily adjustable headband providing a comfortable, customized fit, an advantage to long periods of use.
Pros
The transmission signal is always active in a range of 100 feet, allowing the user to move within the radius as he listens to the audio.
The Avantree HT3189 can work for a long duration of up to 40 hours.
The headphone is compatible with several electronic devices such as TV, Pc, and DVD players.
The Avantree HT3189 headphones are flexible as they can be used separately with other Bluetooth receiving devices such as speakers.
It has an adjustable headband that ensures comfort to the user.
Cons
Does not work with TVs that have only optical output.
How to Choose TV Headphones for the Elderly
There are several factors one can consider when choosing headphones that can be used to watch TV. Listed below are the four main factors that you should put in mind before purchasing the headphones:
Cost and brand
Design and size
Type of the materials used
Availability of the product.
Conclusion
The headphones for seniors to watch TV help the user to listen to TV audio without causing discomfort to other listeners.
With numerous sorts and brands available, picking the best headphone is not an easy task. The above review will assist you in settling for the right choice.
To check a more comprehensive selection for the elderly, check our seniors headphones guide to make a better choice.