Before knowing what headphones do Tyler Joseph and Kanye West use, it is good to know each one of them. Tyler Robert Joseph is an American rapper, songwriter, entrepreneur, record producer, and musician.
He was born on the 1st of December 1988. I know him as a member of the twenty-one pilots' musical duo with bandmate Josh Dun. The pair have produced several hits including chlorine.
If you watch them keenly, you will notice some of the headphones the Twenty One Pilots crew has worn, especially Tyler Josepho during the hit song Chlorine.
Tyler Joseph mostly uses Sony MDR-7506 Professional Headset and also AKG K240 headsets. These two are trendy and styled headphones for a celeb like him. On the other hand, Kanye West uses Sony MDRXB700, Beyerdynamic T1, and Fostex TH900 headphones.
The Tyler Joseph Headphones
Before looking at his headphones, lets highlight who he is and what he does. Mr. Joseph has been a solo artist for a while and released the album known as No Phun Intended in the year 2008. He is a six-time Grammy award nominee and has worn one. His career started in 2007 and continues to date.
Among the genres of music he does are electro-pop, indie pop, rap-rock, alternative hip hop, and reggae. He plays instruments such as bass guitar, drums, ukulele, and piano keyboards. He works with "fueled by Ramen" recording label.
What Headphones Does Tyler Joseph Use?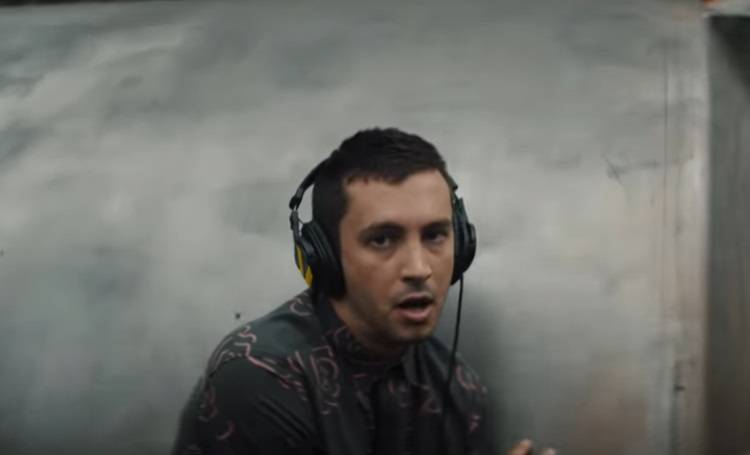 Together with his band Josh Dun, they have released albums like a trench, vessel, blurry face, and regional at best, chlorine, and twenty-one pilots.
Does Tyler Joseph wear headsets? Yes, he wears a couple of headsets, ill outline two of his favorite headsets below.
1. Sony MDR-7506 Professional Headset
Joseph wears the studio monitor headset, MDR-7506 with yellow tape around them.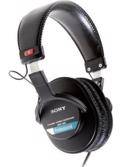 He used it throughout his music video chlorine. The features of this headset include:
Premium 40mm drivers that reproduce all musical nuance
Its design is closed-ear which gives a very tight bass response
Classic tracking headphones
Headsets fold for simplified storage
Includes a soft case
Good for mixing and monitoring on the go.
You can plug this headset into an amp
Released in 1991, Sony MDR-7506 Professional Headset is still among the world's favorite headphones. This headset is suited for professional and casual listeners.
Sony MDR-7506 Professional Headset was made for production. It is reasonably well balanced, more so for monitoring, live sound, recording needs.
The headset helps the producers to maintain the quality in a mix. The headset became an industry standard.
When producing, one wants to make sure that whatever they are mixing will be clear to the listener.
If something sounds harsh on Sony MDR-7506 Professional Headset, the producer can be assured that it is going to sound harsh on the listener's headphones.
The Sony MDR-7506 Professional Headset is the most common headphone in newsrooms, recording studios, and on the heads of video production crews around the world.
Lightweight 
Noise isolation
Foldable design
Accurate and powerful sound
It is very affordable
Good for detailed music reproduction
Fits well with any head sizes
Long cable ideal for studio work
Not very classy
Plastic build
Not for bass heads
The cable is not detachable
The MDR-7506 is highly recommended for applications in which hearing accuracy is vital. They are great headsets, and every headsets lover must have a pair.
2. AKG K240 MKII Headphones
If you have visited any professional recording studio, most likely you have spotted several pairs of AKG K 240.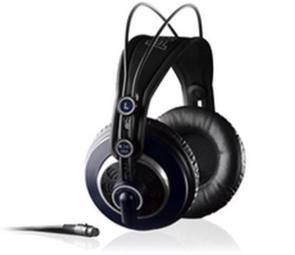 They are used for monitoring and mixing and highly praised for possessing a natural flat sound.
Tyler also uses AKG K240 headsets, the features of this headset include:
They have a 55-ohm impedance
Audio Frequency bandwidth 15 to 25000 Hz
Sensitivity headphones 104 dB SPL/V
Varimotion 30 mm XXL transducers
Max. Input Power 200 mW
Rated Impedance 55 Ohms
Semi-open Headphone
Two detachable cables
Velvet earpads
More functional features
It is good for using with weaker headset amps due to its high output. Varimotion technology and removable cable that enhances bass response.
Their design of semi-open-air incorporates a very accurate dynamic transducer. The circumaural pads are built to wear them comfortably for many hours.
The AKG K240 MKII is an update on the earlier K240model. It is a professional studio headset with an over-ear, semi-open design. This pair of headphones is ideal for studio work because it is intended for listening, mixing, and mastering needs.
Headset good for who
The AKG K240 MkII professional studio headset is excellent for anyone who uses headphones to do their work. Perhaps why Tyler loved it. It is a comfortable option for people who have to work for lengthy periods at a time.
The AKG K240 MkII headset is a perfect choice for home studio musicians. The headset can also double as a tracking headphone, as long as one isn't tracking a loud instrument.
Basic mixing headsets
Removable serviceable cable
Good flat response
Full and balanced sound
Comfortable during lengthy sessions
Not ideal for personal use
They do not boost frequency
AKG K240 is the reference standard similar to NM10 monitors. They generate the truest sonic picture.
However, they don't boost a particular frequency. There are many headsets out there, but Tyler's choice of headset is a professional choice for good reasons.
What Headphones Does Kanye West Use
Kanye West is an American hip-hop rapper, music producer, songwriter, entrepreneur, and fashion designer. He was born in Atlanta, Georgia in the US on June 8, 1977.
His production success came in the late 90s. In the early years of the 2000s, he sprang into a career as an acclaimed solo artist.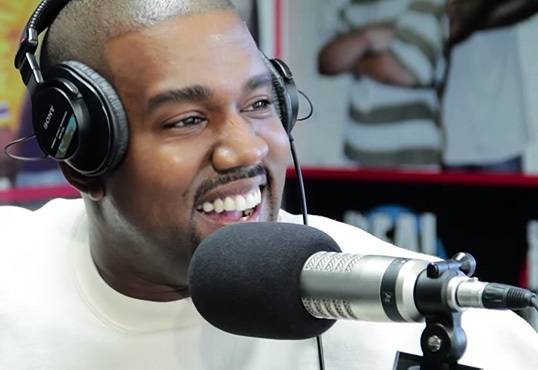 He achieved his major break when he started producing for artists on the record company known as Roc-A-Fella.
He achieved recognition, and often he is accredited with boosting a jay-Zs career. Rumor has it that he turned down the beats headphones deal before Dr. Dre took over.
Kanye West Headphones
Like other celebrities, Kanye uses high-end gadgets to add on to his music listening and style. You can see the example of KSI who uses very nice headphones for his Youtubing. However, Kanye West has several headphones that he uses. Outlined below are his favorite headphones.
1. Sony MDR-XB700 (now Sony MDR-1AM2 headphones
Sometimes Kanye West uses Sony MDRXB700 headphones are designed to recreate the club ambiance with robust ultra-low bass response.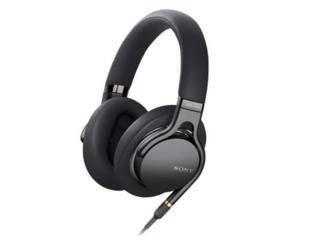 This pair of headphones is designed for bass lovers.
While this headset was discontinued by Sony, they replaced it with a more updated version, the Sony MDR1AM2 wired high-resolution audio overhead headphones.
They have a particular driver unit that reproduces low frequencies.
The Sony MDR1AM2 headset's closed design, direct vibe structure, and powerful drivers take conventional headphone sound quality to a new bass-driven level.
Their comfortable fit could be a good reason why Kanye West fit them in. Also, audio performance and make them perfect for versatile use.
Some Basic Unique features
Multi-Color
Sensitivity 106dB
Impedance 24ohm
Minimum Frequency 3Hz
Noise Isolation, Closed Back
Maximum Frequency 28kHz
Sony MDRXB700 headphones, now Sony MDR1AM2 can be connected to digital gadgets such as smartphones, tablets, and laptops.
With the new Sony MDR1AM2 wired high-resolution audio overhead headphones, one can also use it with desktop computers, televisions, and home theater systems to produce the full stereo effect.
Just like its predecessor, Sony MDR1AM2 wired high-resolution audio overhead headphones are designed to create a memorable listening experience.
At the same time, it is comfortable to wear for lengthy listening sessions. The closed and dynamic architecture of the Sony MDR1AM2 ensures that nothing escapes. The headset gives the feeling of being in the middle of the soundstage.
More features of Sony MDR1AM2 wired high-resolution audio overhead headphones
This headphone has a power handling capacity of 300Mw,
Worn over the head with wearing the style of around-the-ear
The ear cushions are king-size with a thickness of 2/0, and a diameter of 4.3.
It has a flat cord of 1.2 m
Comes with a carrying porch
The power handling capacity is very high for studio applications.
Lightweight
Rich, deep bass.
Good acoustic noise cancellation
Comfortable to wear for hours on end.
2. Beyerdynamic T1 Headphones
Beyerdynamic T1 looks and sounds world-class, and it is no surprise Kanye West likes them.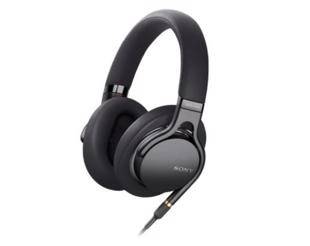 It is compared by some to the Mercedes Benz of headphones.
The headset stands for premium sound quality and precise craft.
This pair of headphones has an award-winning premium design that includes open-ear cups with metallic grills, soft velour ear cushions, and a braided textile cable.
Beyerdynamic's unique Tesla technology has set new standards in headphone quality. The T1 is a fantastic headset that produces crystal clear sound quality, which can attract a celebrity like Kanye West.
Also, the frequency range of the T1 is extraordinarily harmonically tuned. The headset has a spatially transparent reproduction that provides enjoyment of music for the critical of listeners.
Unique features of Beyerdynamic T1 headphones
Its Tesla technology drivers are highly efficient
The sound of Beyerdynamic T1 is powerful transparent and spacious
Ear cushions are supper soft breathable, with memory foam
Comes with a warranty of 5years
High impedance (600 Ohms)
At the same time, the Beyerdynamic T1 faithful acoustic reproduction takes the listener to the recording studio with their favorite musicians.
Features
Luxury grade hard carry case
The high impedance of 600 Ohms
Extraordinary impulse fidelity
Handcrafted, made in Germany
Highly efficient Tesla technology drivers
Spacious, transparent and powerful sound
High-grade protein-coated leatherette headband
Breathable, super-soft ear cushions with memory foam
Connection cable with a jack plug and screwed-on jack adapter
Three meters long double-sided, textile braided detachable cable
Top-quality sound
Innovative technology
Excellent level of comfort
High-fidelity sound output
Award-winning premium design
3. Fostex TH900 Headphones
Fostex was among the first companies to consider a sweet headphone amp set up as a serious alternative to the conventional high-end home stereo. Fostex studio headphones became popular among hardcore headphone enthusiasts in the 1970's.
Therefore, the company has played a crucial role in ushering in the current high-end, audiophile headphone boom. And the TH-900 model accelerated the growth. This headset is one of the best-looking closed headphones on the market. 
Features that Kanye West could have liked in Fostex TH900
The Fostex TH900 acts like an open headphone and also has the advantages of a closed headphone. It is a combination of both worlds and packs it in a beautiful cup.
Fostex TH900 headphones are well balanced for most parts. Its trebles are sweet and extended, the mid ranges are vibrant and engaging, and the bass is deep, tight, and layered.
The headphones are, without a doubt, one of the top quality headphones in the market because of the following features;
Driver unit with a 15,000 gauss magnetic circuit
Audio frequency bandwidth 5 to 45 kHz
Bio-dynamic 2-inch diaphragm
Sensitivity of 100db/mw
The impedance of 25 ohm
A Three-meter cord
Have detachable connectors for replacing the common unbalanced cable.
Model ET H3.ON7BL has optional balanced cable is sold separately to cater to the demands for balanced connections.
For cable replacements, they have new detachable connectors in detail.
Replicable Cable 
The appealing design and looks
High-quality audio experience across all genres
Comfortable to wear for long listening sessions
Ear cups were designed with Japanese Birch Cherry wood to ensure tonal accuracy
Poor isolation
Weak frame attaching the headband to the ear cups
Does Kanye West Wear Headphones Everywhere Like Everyone Else?
One of the most fascination revelations found in the republic survey done by sol is that popular anthems by Kanye west like "stronger" and the "chariots of fire" are popular amongst headphone devotees. These days' people are perpetually adapting themselves for the battle of just existing.
To answer the question if Kanye uses headphones everywhere like everyone else, this is how he puts it: headphone checks were once just that, checks but now he spends most of his mix-time on his headphones; that is knowing that many of his fans will be doing likewise.
Our Final Take
While we have explored What headphones do Tyler Joseph and Kanye west use, the final decision to buy headsets rests with you. Make it a trendy decision, just like others.
At the ending of each day, we jog towards our front doors as we rip off our headphones triumphantly. Thinking to ourselves, we did it. More and more people are choosing to listen to their music on headphones as we get into nearly forty years of portable audio.
Watch the video of Twenty One Pilots' chlorine hit song, and see if you will notice any of the above Tyler Joseph headphones.