If you are a YouTube regular or a fan of games and boxing, you have probably heard of Logan Paul. From his success in Vlogging to the recent boxing bouts.
Today, I would like us to explore something rather different about this guy. What headphones does he use and what are their unique features. I love Logan Paul, and I would like to wear his headphones any day.
Before we delve into this, let's get to know him.
Who is Logan Paul?
Logan Alexander Paul is an American actor, internet personality, and YouTuber. He was born on April 1, 1995, and is famous for his YouTube video content and posting on his own YouTube channel.
He gained fame in 2013 through posts on his video-sharing app Vine profile. In addition, Impaulsive, a podcast Paul has run since November 2018, has over 2 million followers.
Logan Paul relation with JBL
At one point, Paul had over 3.1 million followers, making him the 10th most influential figure on Vine in 2015. He was also popular on other social media platforms, including snapchat, Instagram, Facebook, and Twitter.
Many companies, including JBL, HBO, PepsiCo, and Hanes, tapped his Vine prowess to draw attention to their products.
James Bullough Lansing (JBL) sound is an American electronics company and a pioneer in providing high-quality audio equipment, including earphones and headphones.
Headphones that Logan Paul uses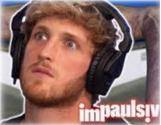 Logan paul attracted the interests of the companies stated above and this influenced his choice of headphones.
They recruited Paul to use their new range of wireless and wired headphones and earphones.
Based on our check, Logan Paul uses JBL headphone models, and most consistent is the JBL Synchros E40BT Headphones, the JBL E50BT Black Premium Wireless and at one time, the Astro A50 gaming headphone.
Let's delve into each, one by one in detail.
1. JBL Synchros E40BT Headphones
The E40BT is an attractive pair of Bluetooth headphones. Its design won the Red Dot Award in 2014.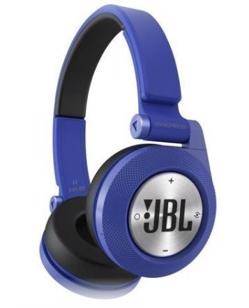 They are on-ear headphones that rest on the ears without completely covering them.
The padded cups ensure they fit comfortably on top of the ear dome.
The Synchros E40BT has a good channel separation and high-quality output.
The midranges and trebles are tight, producing crystal clear sound.
The headset gives the same transparent reproduction in a wired state of the wireless state.
The Synchros E40BT supports Bluetooth 3.0 and above. It has a good sound signature with a frequency response of 20Hz to 22 kHz and a maximum impedance of 32 Ohms.
This pair of headphones is an excellent option for people who prefer the sound with subdued or no bass. It is no surprise that Logan Paul loves the JBL Synchros E40BT headphones.
If you live them, the E40BT headphones come in four colors; purple, white, black, and blue. The choice is all yours.
Summary of the unique JBL Synchros E40BT Features
JBL signature sound with PureBass performance
Ergonomic headband and leather padded ear-cushions
USB rechargeable, built-in 16 hours lithium-ion battery
Bluetooth technology for wireless music play and calling
Premium 40mm drivers for clear reproduction of the full range of sound
Ear microphone equipped with echo-cancelation technology enables hands-free calling
Built-in Share Me technology for simultaneous and wireless sharing of content with other headphones
Pros
Long battery life
has ShareMe function
Stylish color schemes
Quality Bluetooth sound
An attractive Award-winning design
Great wireless and wired mode option
Comfortable fit and effective noise isolation
Cons
Flimsy build
Aggressive branding
Bass response is a little lacking
2. JBL E50BT Black Premium Wireless Over-Ear Bluetooth Stereo Headphone
This pair of Bluetooth stereo headphones have a solid build is and functions well.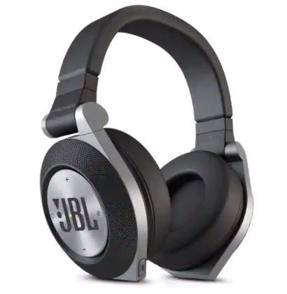 This pair of headphones share the sleek Award-winning design of the Synchros E40BT.
The JBL E50BT has a quality sound, and can be good for gaming which is something Logan Paul is good at.
It is an excellent choice for high-end digital music, 7.1 virtual surround movies, online content, and gaming.
The midranges and trebles are tight, enabling the headphones to provide a crystal clear sound reproduction.
The JBL E50BT Bluetooth function is easy to use. The headset is excellent for telecommuting with both computers and smartphones. With a flick of a button, one can switch between Smartphone, desktop PC, Tablet, TV, or Home theatre system.
The E50BT has striking five color combinations that also make a unique visual statement.
Some of the JBL E50BT Features
Wireless connectivity technology
Ear microphone for hands-free calling
JBL signature sound with PureBass performance
Bluetooth technology for wireless calling and music play
3-D hinges and ergonomic headband for long-lasting comfort
Premium 50mm drivers deliver the full range of tone with clarity
USB rechargeable, built-in lithium-ion battery gives 18 hours of continuous listening
Built-in Share Me technology for simultaneous and wireless sharing of content with another set of headphones
Pros
Foldable headphones
Lightweight
Comfortable fit 
Long battery life
ShareMe function
Wireless connectivity
Great Bluetooth sound
Effective noise isolation
Unique color combinations
Sleek Award-winning design
Great wireless and wired mode option
Cons
Poor bass
Snug against the ears
Other headphones Logan Paul has ever seen using include:
3. ASTRO Gaming A50 Wireless Dolby Gaming Headset
The A50 Gaming Wireless headphones have high audio power that enhances the best PC games, something Logan Paul is interested in.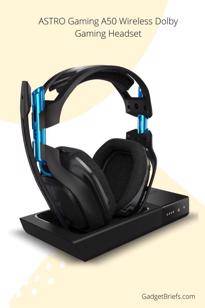 It helps to improve the audio detail and surround sound to create an immersive atmosphere.
The headset can turn the footsteps of an enemy into a dead giveaway that betrays their exact location.
The ASTRO Gaming A50 Wireless turns single-player campaigns into journeys that one won't want to abandon.
The great mic turns the online game into a social experience, allowing teammates to chat and coordinate tactics on the fly.
Though the Astro A50 is rather big and bulky, it is surprisingly comfortable to wear.
The underside of the Headset's headband and earpieces are covered in a soft cloth.
It makes it convenient to wear the headset. While watching a movie or during long gaming sessions, one entirely forgets they are wearing it.
The Astro A50 has Dolby Pro LLX compatibility, which enables it to provide high-quality output with crisp highs and deep bass.
This pair of headphones has among the best software-enabled sound mixing in the 7.1 headset class.
The Astro A50 has a stealthy color scheme, a subdued matte black finish that is attractive.
Features of the Astro A50 Gaming Headset
Clear Microphone
5GHz Wireless Technology
Pro Audio quality finish and fit
7.1 Surround Sound Dolby headphone
Compatible with PlayStation 4, Mac and PC
Pros
Pros
Comfortable fit
Great audio power
Excellent sound fidelity and mixing
Connects to any electronic device with an optical port
Cons
Battery performance
Cables and adapters sold separately
Lack of separate channels for talk and game sound
4. MEAR Nice Professional Headphone logan-paul funny Wired Microphone headset
MEAR Nice Professional Headphone logan-paul funny Wired Microphone headset provides stereo Hi-Fi sound output.
This pair of headphones is designed to recreate the club ambiance. This headset is intended for listening, mixing, and mastering making is ideal for studio work.
The MEAR Nice Professional headphones are designed for people looking for a well-balanced sound. They provide clear vocals, crisp high tones, and powerful bass.
The headset is uniquely intended to reproduce live stereo H-Fi sound, which why it suitable for mastering and mixing needs.
The MEAR Nice Professional headphones have an adjustable and flexible headband. It allows the listener to find a comfortable angle they want to fit in.
This enables it to deliver a fatigue-free listening experience. The audio performance and comfortable fit make it easy to use the headphones for long periods.
MEAR Nice Professional headphones can be connected to Android, iPod, iPad, iPhone, and other audio gadgets such as tablets, and laptops, desktop computers, televisions, and home theater systems to produce the full Hi-Fi stereo effect.
This pair of headphones gives the feeling of being at the center of the soundstage.
MEAR Nice Professional headphones have high-quality ear cushions. These are particularly designed for monitoring noise isolation and ensuring maximum headphone's comfort.
MEAR Nice Professional headphones are suitable for versatile use.
Features:
Closed-back
Noise isolation
Precision Microphone
Soft padded ear-pads
Adjustable and stretchable headband
Pros
Lightweight
Ideal for versatile use
Fits well on any head size
Simple and durable design
Good acoustic noise cancellation
Well balanced Hi-Fi stereo output
Comfortable to wear for lengthy periods at a time
Cons
Supply issues
The cable is not detachable
Conclusion
While there are a number of headphones that Logan Paul uses, the above headphones are some of the ones we spotted. Among them, we definitely prefer the JBL.
Whatever you choose from the list, it will depend on your preference and liking of the celeb status of Logan Paul.
By the way, did you know that Logan Paul is one of the recent entrants into boxing. Yes, a boxer.
He recently had a bout with KSI, whose headphones we have also featured. Feel free to watch the trailer of the fight that Logan Paul had with KSI.
Meanwhile, watch one of the most popular Logan Paul's most watched music videos,