Technology has made it possible for you to enjoy music as you shower with the introduction of waterproof earbuds for the shower.
For a smooth morning shower, these earbuds provide the right avenue for you to enjoy a continuous music experience without hearing the ugly sound of water oozing out of the faucet. 
They are sweat and water-resistant hence you can use them in water and still enjoy a great sound quality. Just like ordinary headphones, earbuds can be used in everyday life.
Because of their versatility, you can enjoy your music while showering, swimming, walking or moving around the house.
Whatever brand you select, these earbuds are multi-functional and can withstand tougher circumstances because of their durability.
| | | |
| --- | --- | --- |
| Product name | Unique selling point | Buying link |
| 1.BlackView wireless Earbuds | A higher IPX 7 rating for a maximum waterproof experience. Lightweight of only 5 ounces for easier portability. | |
| 2. Donerton Wireless earbuds | Long-lasting battery life of up to 6 hours. Great for showering because of a higher IPX8 waterproof rating. | |
| 3. TOZO T10 Wireless shower earbuds | Fits in the ear canal perfectly | |
| 4. IP68 shower earbuds | Produces good sound and high-quality bass because of the unique heavy bass design. | |
| 5. Kurdene S8 wireless shower earbuds | A powerful Bluetooth with faster connectivity. Kids and family members will not disturb you while you shower because of strong noise cancellation features. | |
The 5 Best Waterproof Earbuds For Shower
1. Blackview Wireless Earbuds
These Bluetooth wireless earbuds come with a large speaker that has been built with dynamic coils for a better music experience.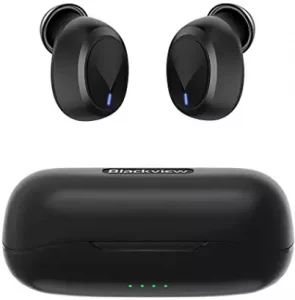 The presence of DSP technology for noise cancellation guarantees a clear sound quality.
Additionally, the earbuds are able to connect automatically because of Bluetooth. Another notable feature is the powerful battery.
When fully charged, it can last up to 6 hours. Far from that, the ergonomic design of these in-ear wireless earbuds is simply amazing.
They can fit perfectly into any size of ear canal because they come with different sizes of silicone sleeves.
Whether you are jogging, jumping in the shower or taking part in sports, they will never fall out.
Pros
The earplugs for either side of the ear can be used independently 
They have a high waterproof rating
Bluetooth system is compatible with most Android and iOS platforms 
Portable and easy to carry around
Easy to operate because of the auto pair/touch control 
Loud and clear when under water
Cons
Bass is not powerful 
Gadget is not friendly for tiny ear canals
2. Donerton Wireless Earbuds
These in-ear wireless earbuds from Donerton boast of cutting-edge Bluetooth technology. Rightly so, the technology permits universal compatibility with most Android devices.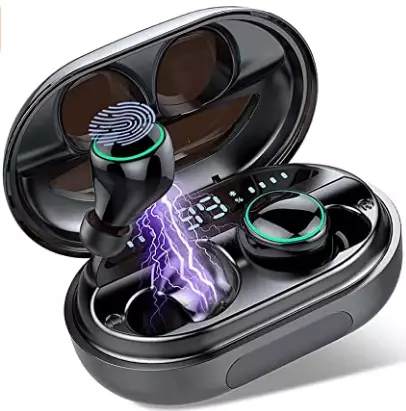 Users enjoy sheer stable connection and swift pairing. The stereo sound quality is on another level.
They produce a treble performance coupled by a balanced bass because of the C5S headphones.
The earbuds are also 1PX8 waterproof and this is a clear indication that you are safe in the shower, when sweating or in heavy rain.
The charging case is simply versatile.
When fully charged, it can last as long as 80 hours and can be used as a power bank to charge mobile phones as well as other USB devices.
Pros
Easy one-step paring option
Has passive voice cancellation abilities
Easy to control and operate
Either side of the earbuds can be used separately to connect to other devices
A long lasting battery
Cons
Battery case is somehow bulky
Call quality is not good
Sometimes sound cuts when you are underwater
3. TOZO T10 Wireless Shower Earbuds
Perfectly designed to fit the curve of any ear contour, this shower earbud from TOZO can change your shower experience.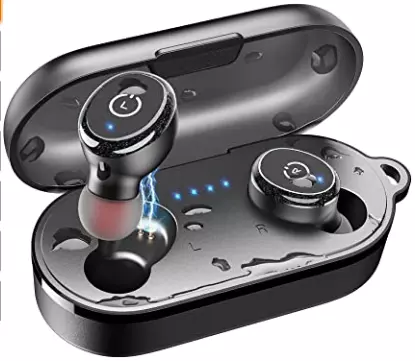 It features round silicone ear tips for maximum comfort and stability. The earbuds stay firm even when you are jogging or jumping.
There is a superb Bluetooth technology that supports, HFP and AVRCP for the best stereo sound quality.
This skill has made the sound transmission faster with a much-reduced latency.
TOZO T10 Wireless shower earbuds give a powerful bass and treble of 20kHZ to the maximum.
As you shower you can enjoy any sound detail you want ranging from mellow to midrange.
Pros
Large size speaker that produce high quality vivid music
Long lasting battery of up to 6 hours playtime
Wireless charging for convenience
Because the headsets connect automatically, users enjoy a simple one step paring
Strong waterproof protection for both the charging case and the earbuds
The charging case is compatible with majority of the wireless chargers
Cons
Some previous users have experienced pain in the ears after use
4. OKYUK IP68 Shower Earbuds
Built for showering and swimming, IP68 earbuds from OKYUK brand have a superb waterproof rating. The earbuds boast of a durable coating that can withstand any form of perspiration.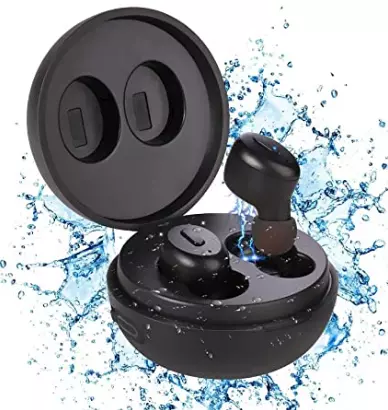 This makes them suitable for beach, waterparks, shower, sauna rooms, pool and many more water environments.
The pack comes with a 600 mAh charging box that can sustain up to 5 times full charging. It can be used for both USB and wireless charging.
A notable advantage is the fact that the charging box floats on water and can never be lost when showering, swimming or fishing.
The V5.0 Bluetooth earbuds also feature a passive noise cancelling ability with easy to use volume controls. You can enjoy a transmission distance of up to 10 meters.
Both earbuds come with an in-built mic that makes it easy to share music with another person. Also, they have silicone-made ear cups in different sizes so that the earbuds stay firm in place. Above all, IP68 shower earbuds are able to support HFP, A2DP, HSP and AVRCP.
Pros
Very light weight (0.158oz) for maximum comfort
They are versatile and multipurpose. Apart from showering, they can be used for jogging, swimming, hiking, yoga, driving and etc.
Produces high quality bass
They enable both iOS and Android phone control
Have a long lasting Polymer lithium battery
Cons
The Bluetooth signal is weak when the earbuds are wholly immersed in water
5. Kurdene S8 wireless shower earbuds
Kurdene S8 have the perfect touch program setup. There is a software incorporated that permits just a single touch for the user to play or pause the music.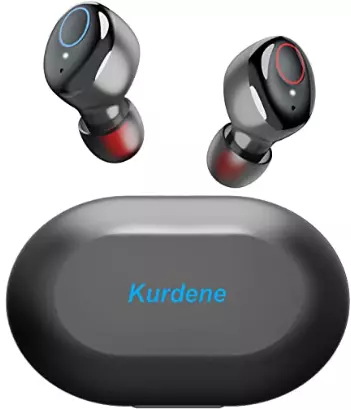 As such, chances of inaccurate touches are highly minimized.
It features the latest TWS 5.0 Bluetooth technology that facilitates a swift paring and stable connection.
The Bluetooth chip is compatible with Android smartphones, tablets and laptops.
For fitting purposes, the earbuds come with 6 pairs of earcups in small, medium and large sizes.
The inclusion of Polymer batteries give a single charging that can make you enjoy a shower of up to 6 hours with no interruption.
Pros
They produce better sound quality
Comes with easy touch control features
They are comfortable to wear and provide a hassle-free listening
Built-in micphones
Extremely light
Cons
Presence of background sounds during phone calls 
Can pot out when you are in vigorous movement
Factors To Consider When Purchasing Shower Earbuds
Whether you need these water resistant earbuds for home showering, jogging or swimming, below are vital points to consider before purchasing one:
1. IPX rating
IP simply means the Ingress protection while the X depicts the resistance level to water. It is important to check the numbers before purchasing.
Good earbuds for shower ought to have an IPX not below 7 so that they can withstand robust water jets coming from any angle.
2. Waterproof/water resistant
For shower purposes, they should be both waterproof and water resistant. In this way, their adaptability is enhanced because they can be used for different underwater activities. If you will want to use them for exercise activities, ensure they are sweat resistant.
3.Noise cancellation
This is an important technology that will determine the listening experience. A built-in micphone will be an added advantage especially if you want to use them for calls.
4. Fitting
Purchase earbuds that fit perfectly so that they don't drop when you are active. Opt for a good ergonomic design that comes with different sizes of ear tips. Needless to say, choose those with memory foam or silicone tips that enhance comfort.
5. Bluetooth connectivity
Ensure the earbuds you select have a strong connectivity that can pair up to 30 feet away. Check the duration it takes to pair and if the gadget has a Near-Field Communication (NFC) that makes it fast to pair.
Verdict
For music lovers, waterproof earbuds provide a memorably appropriate response to your needs. The shower is the ideal place to spend quality time away from your busy schedule.
The above 5 waterproof shower earbuds can serve this purpose. Going to the shower does not mean you should miss important podcasts or your favorite music channel.