Whether you are practicing in the rehearsal room or preparing for a live performance in the big arena, incorporating in-ear monitors can boost your confidence by keeping you in sync with the band. In this buying guide, we explore the best Sennheiser in-ear monitors for this year and beyond.
IEMs, as In-ear Monitors are often referred to, are special devices that allow a musician or artist to listen to the tracks they are currently playing.
In this handy guide, we review the factors to mull over when purchasing your next pair of in-ear monitors. We also review the best in-ear monitors on the offer today.
Quick Comparison for top 9 Sennheiser In-ear Monitors
Title
Details
Unique Selling Points

1.      Sennheiser IE 40 PRO

*

Sturdy Plastic Shell


*

Vent-hole Releases Pressure


§

Modest price tag


§

Decent sonics even at high frequencies
§ Stage-compatible cabling

2. Sennheiser IE 500 Pro

*

Twisted Cable-detachable


*

TrueResponse Driver system


§

Rugged ergonomic design
§ Wearing comfort
§ The packaging of the accessories needed

3. Sennheiser Momentum True Wireless 2 – Bluetooth Earbuds

*

Active Noise Canceling


*

Gray Woven Case Finish


§

Superior sound quality


§

Transparent listening mode


§

Split control features

4. Sennheiser IE 800

*

Precision Ceramic Housing
* Copper cable(Oxygen-free)
   
§ Durable construction


§

Wide frequency response

5. Sennheiser ew 300 IEM G3
* Custom Ear-fitting Pads




§

Better connectivity range


§

Comfortable on wear
§ A wide range of tunable UHF frequencies

6. Sennheiser Momentum In-Ear (Android version)
* Rubberized Cable


*

Dynamic Drivers


*

3 Remote-integrated Control Buttons


§

Distortion-free output


§

Tangle-free design


§

Generous manufacturer's warranty

7. Senheiser IE60 Headphone 

*

Dynamic Speaker Systems


*

20dB Noise Attenuation


§

Strong bass


§

Clear sound at low volume


§

Compact design

8. Sennheiser Pro Audio ew IEM G4 Twin in Ear Monitor System

*

Exchangeable Ear Sleeves 


§

Long-Range Connectivity


§

Decent RF reception


§

Proper Fit

9. Sennheiser In- Ear Audio Monitor(IE400)
* Transparent Plastic Shell
* Detachable Cables


§

Pentaconn Ear connector


§

Comfort even on the prolonged duration of use


§

Passive noise cancellation
The Best Sennheiser In-Ear Monitors
1. Sennheiser IE 40 PRO In-Ear Monitor
The Sennheiser IE 40 PRO model is a perfect antithesis of flashy earphones that only shine in design but fall short in sound quality.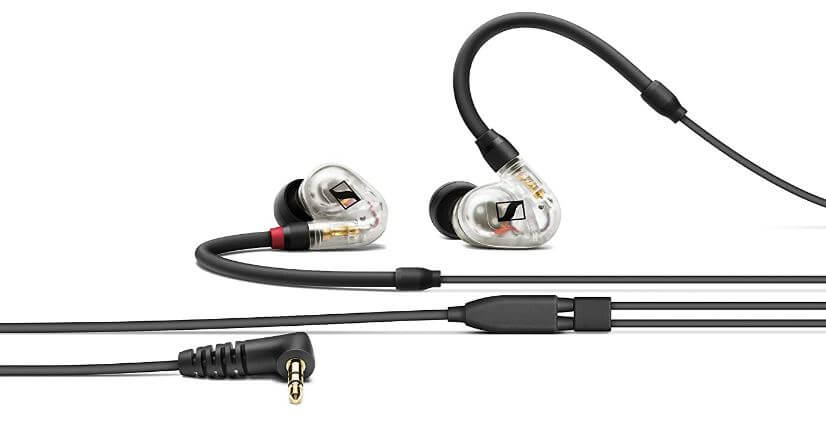 These earphones are designed to sit deep into the ear thus blocking out much of the ambient noise.
They have an attractive bass that gives an extra boost and also helps drown the noise from your fans.
A complimentary, even mid-range enriches the sound to create an essence of 'soundstage width'.
While the treble tuning isn't classic, it's smooth enough for any stage performance with dB varying between 6 to 8 KHz.
Regarding the construction of the headphones, the shell is made of made sturdy yet lightweight plastic.
Further on, the connector flaunts an MMCX-like appearance which makes it fit better into the year. The design also makes it easy to swap the cables.
Pros
Robust design
Fits snuggly
Detachable lead
Friendly pricing
Wide frequency response
Cons
A relatively shortened lead
2. Sennheiser IE 500 Pro In-Ear Monitor
The Sennheiser IE 500 Pro delivers a mix of smooth, clear sound and great bass texture thus offering users a rich listening experience.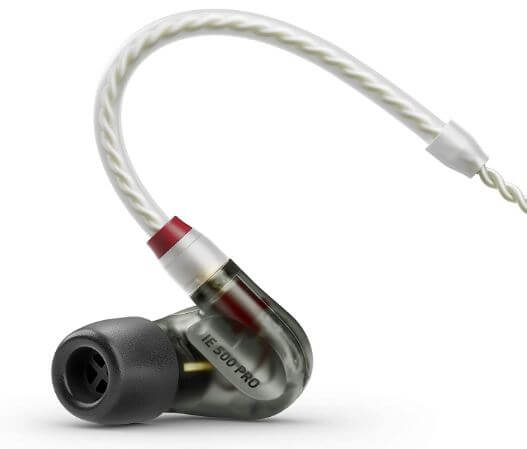 These earphones are equipped with a7mm driver that's responsible for reproducing natural and differentiated sound that's free of distortion and overlapped frequencies.
To complement the above drivers, the earbuds are custom-molded to further shield you from loud noise while on the big stage.
This helps you keep yourself in tandem with the tracks in play.
Complimentary, ear adapters lower ambient to around 26 dB to safeguard users' ears against damage.
For durability and wear comfort, the Sennheiser IE 500 Pro exhibits an ultra-compact construction. This makes the earphones light and with snug fit on the years.
Pros
Reinforced ear hooks make earphones durable
Has a wider frequency response compared to most headphones on the same level
Comfortable fit even on long hours of use
Low distortion
Smooth, coherent sound even at high volumes
Cons
Unattractive price compared to competing models
3. Sennheiser Momentum True Wireless 2 – Bluetooth Earbuds
With active noise cancelling feature, the Sennheiser Momentum True Wireless 2 is ideal for use in noisy environments.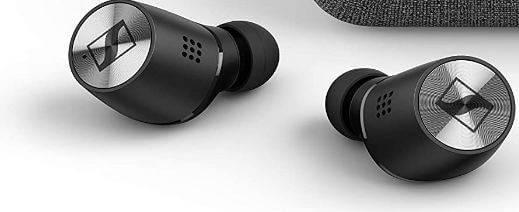 At 0.59 lbs, these earphones are mercifully light thus ideal for lengthy and even rigorous use.  
The earphones feature a compact design which makes for a comfortable fit in the ear.
A snug also helps in keeping noise thus enhancing the sound quality and user's listening experience.
On the first look, these earphones flaunt a metallic touch-sensitive housing reminiscent of high-end models. The inside of the buds has an attractive LED light that shows you if the earphones are connected.
Pros
Longer battery life
Outstanding stereo sound
Compact design creates a better fit
Noise cancelling feature
Cable-free thus won't limit movement on stage
Cons
Isn't shipped with foam tips
4. Sennheiser IE 800 In-Ear Monitor
To an ordinary user, the Sennheiser IE 800 is just a highly-priced pair of headphones. In reality, though, this IEM model is equipped with high-end tech that places it well above ordinary earphones.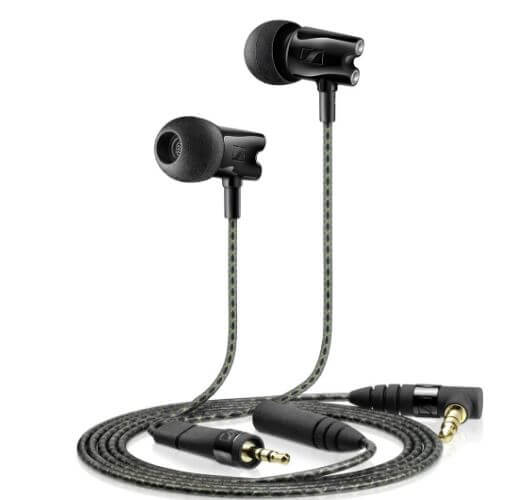 The IE 800 Sennheiser earphones are equipped with a 7mm driver that delivers an ultra-wide dynamic range.
These drivers belt out the high-frequency treble and deep bass that would inspire admiration from partying monsters.
These earphones are housed in a scratch-resistant ceramic case for durability.
This material, coupled with a compact design, makes the earphones fit on the ear with ease and rest in an optimal position.
The copper cables are fortified with Kevlar which makes them extra tough and ideal for the rigorous moves during stage performance.
Pros
Durable ceramic housing
 Superb audio performance
Comfortable fit on the ear
An attractive design
Cons
High price tag
Cable is only partially removable thus hard to replace
5. Sennheiser ew 300 IEM G3
The Sennheiser ew 300 IEM G3 IEMs come with a much smaller earpiece that's customized for a snug fit and comfort.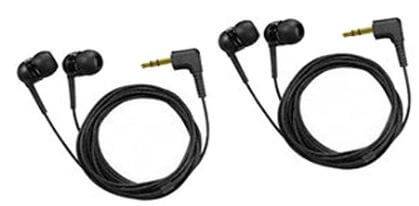 This way, the earphones block outside noise so that you can clearly hear the tracks as you record.
The HDX compander delivers crystal-clear sound while the 42 MHz bandwidth ensures there isn't sound interference as you perform.
The transmitter is housed in a metallic casing making it sufficiently rugged for any stage.
To ease sound transmission, this IEM model comes with an auto-scan frequency search feature.
A pass-through outputs factor allows users to split the input signal between different devices. This makes it easy for the control team to keep check on the quality of sound reaching your ears.
Pros
Solid construction
Flawless sound reception
Clear sounds
Long battery life
Offers good value for money
Cons
Cables can easily snap if twisted awkwardly
6. Sennheiser Momentum In-Ear (Android version)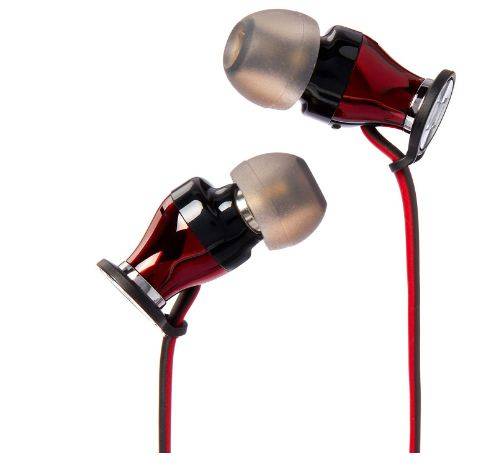 These IEMs flaunt a wealth of powerful features and a matching sporty look that any Android user would be proud of.
The earbuds, which have a red-stitched case, are modeled to sit deep into the ear canal. They block any ambient noise.
Additionally, the design makes sound reception easy and clear.  
The headphone cables are covered with a sturdy shell case that can absorb constant the pressure of constant twisting without snapping up.
In essence, you can twist the earbuds up to 15o without affecting performance.
Further on, the Sennheiser Momentum IEMs come with 3 buttons integrated on a control panel. This makes it easy to adjust the sound to suit the environment.
A frequency response topping 22000Hz is far higher than you get for mid-range in-ear monitors. In a word, tangle-free cabling, inline controls, and a stunning design make these headphones a class above competing models.
Pros
Prime sound quality
Luxurious finish
Strong noise cancellation
Attractive battery life
Light in weight
7. Sennheiser IE60 Headphone
The noise cancelling Sennheiser IE60 Headphones can endure plenty of stage abuse owing to its durable yet sleek design.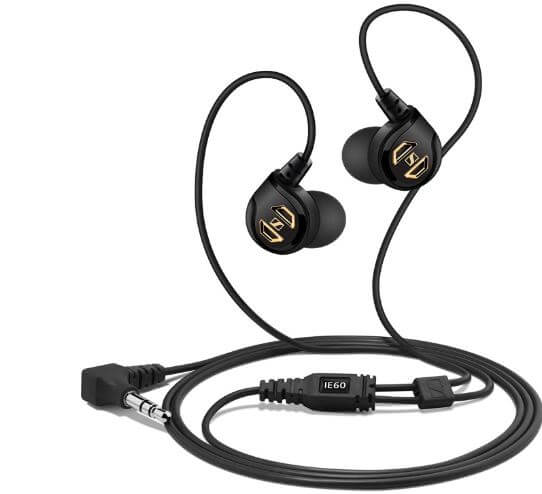 The cable is designed to hook behind your ears for a firm yet comfortable fit.
This tweak is complemented by the rubber ear-tips that will remain in place as you perform your gigs.
Unlike the majority of other earphones, the Sennheiser IE60 supports a wide array of audio file formats including WAV and FLAC.
The model is also compatible with CD players, MP3, iPad, iPhone, and iPod.
A major strength for these headphones is the fluid flow of sounds even on low-bass and thick upper mids.
The earbuds are beautified with unobtrusive lines of gold trimmings which make them seem luxurious. The cables and the earbuds are reinforced with sturdy plastic for durability and stage ruggedness.
Pros
Good noise isolation
Sturdy build
Decently fitting ear tips
Clear vocals and well-rendered midrange
Sleek appearance
Cons
A little harsh treble at high frequencies
8. Sennheiser Pro Audio ew IEM G4 Twin in Ear Monitor System
Want to boost your confidence when you are on the big stage? The G4 Twin Sennheiser Pro IEM will help you achieve exactly that owing to their sound clarity and flexible wireless synchronization.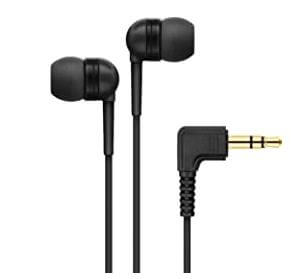 These IEMs have a robust 42 MHz bandwidth that boosts the transmission range to around 300 feet.
What's more? The system has 61 channels at your disposal and over 1,680 selectable frequencies.
The control panel is user-friendly and this definitely helps keep things flowing freely as you put up your best on the stage.
It has an improvised infrared interface through which your assistants can escape the play, and dim the LEDs automatically.
The monitoring system comes with two pairs of earphones so that you can always have a pair on standby.
Generally, the meets users' expectations of a quality IEM system with excellent sound connectivity and frequency range
Pros
Top quality sound
Compatible with a wide range of channels
Solid build
Flexible frequency allocation
Easy to operate
9. Sennheiser IE400 In- Ear Audio Monitor
The Sennheiser IE400 is among a handful of IEMs that are equipped with the TrueResponse technology and a 7mm wideband transducer. The transducer reproduces high-resolution monitoring sound ideal for any stage.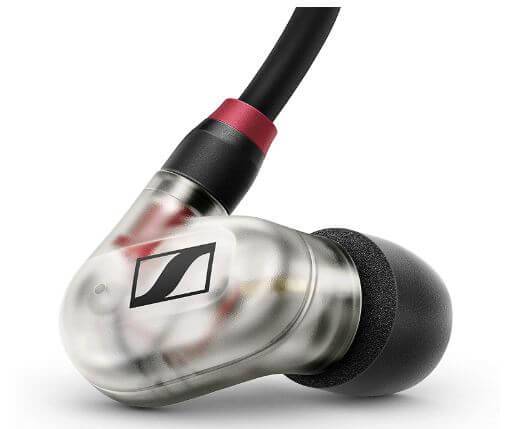 Besides sound clarity, the dynamic transducers also pack some punch into the sound frequencies.
This eliminates distortion and keeps the sound warm and the artist using it in a more confident position.
The earmolds are made of a see-through material that distinctly keeps them out of view.
The likable design is complemented by the use of a detachable cable that you can easily replace if they are worn out.
The earbuds flaunt a flat profile design using memory foam and this helps them stick comfortably into position.
Such a snug fit also helps obstruct external noise for a prime listening experience.
Our verdict on the Sennheiser IE400 in-ear monitors is that they are the best for delivering a rich mix of timbre and volume. They also guarantee break-proof connection which helps keep the music flowing all through.
Pros
Durable construction
Excellent fit
Decent noise isolation
Rich sub-bass
Balanced sound
Cons
Relatively lower frequency range
Our Top 3 Picks for In-Ear Monitor and Why
a. Sennheiser Momentum In-Ear (Android version)
A sturdy case, tangle-free design, and an integrated microphone place these IEMs ahead of competing models.
The high-gloss housing will certainly attract eyeballs to you while the custom-designed buds deliver a snug yet comfortable fit on your ears. Overall, these IEMs are molded to deliver powerful and uncompromising sound.
b. Sennheiser IE 40 PRO
The in-ear monitors deliver a detailed, balanced sound tempered with an engaging bass. This IEM model comes with detachable cables that hold well in position as you exercise or perform.
The higher-end armature drivers and 10mm dynamic drivers produce top-notch audio.
c. Sennheiser Momentum True Wireless 2
The Sennheiser Momentum Wireless 2 boasts of anesthetic and ergonomic design that helps seal out noise from the environment.
Since they are more compact and light, these IEMs remain comfortable even on long listening sessions. They are also wireless thus won't limit your movements while on stage.
Factors to consider when choosing Sennheiser In-ear Monitors
Fitting
IEMs are designed either for universal or custom-fit. If you settle for a universal fit, ensure the in-ear model has a tip that has a proper fit on your ears.
The tips come in different sizes and material make thus easy to select one that suits your ears.
If you prefer custom-fit EIMs, ensure that seals both your ears in a comfortable way.
The Drivers
The numbers of drivers often vary with IEM models- and often times with price. Choose the an in-ear monitor that has sufficient drives to match the number of speakers you intend to use when performing.
Audio specifications
The sound quality for IEMs is often influenced by the IEMs ability to isolate noise, their sensitivity, and frequency response.
Brand
Established brands often produces quality IEMs that can withstand the rigors of live stage performing. Additionally, trusted brands back up their products with lengthy warranties and have a client-friendly customer desk.
Personal preferences
In-ear monitors come in different designs and color shades to suit the needs of different users. You'd definitely want to settle a device that will match your preferences. This allows you to perform naturally without feeling cosmetic.
Frequently Asked Questions on Sennheiser in-ear monitors
How do In-ear Monitors differ from ordinary earphones
IEMs are custom made, professional grade earphones that are aimed to be used by serious audiophiles and live performers. They have two or more speakers (drivers) while ordinary earphones only have a single speaker aren't tooled for specific activities.
Can Sennheiser in-ear monitors be used for gaming?
IEMs can offer better imaging when used for gaming. They are also ideal for those who wear glasses. Even then, since they have multiple speakers, they may hurt in the long run.
The power of IEMs is often based on drivers. What's an IEM driver?
In essence, IEM drivers are like miniature speakers that help amplify the sound from the source device. They often dictate how clear or entertaining the sound is to the user's ears.
How do Sennheiser IEMs with dual drivers differ with those that have triple drivers?
For In-ear monitors with dual drivers, is the frequency spectrum is split up to two ranges. These are low and high frequencies. Triple drivers IEMs have 3 categories of frequencies mainly low, mid-range, and high.
Is there an advantage of using in ear monitors in place of stage monitors?
Since users of IEM receive the sound in earbuds, there isn't a need to use stage monitors. The stage is less cluttered and less noisy. As such, users can hear the volume of the tracks in play at lower volumes and this generally safeguards their ears from harm.
Does a high price indicative of top quality IEM?
The price is most often a pointer on the quality and the number of drivers that an IEM system has. Even then, some established brands price their systems higher than competing brands even when they have nearly the same features.
Do Sennheiser in-ear monitors protect the user's hearing?
When adjusted to high volumes, IEMs can lead to hearing loss. However, a large majority of the Sennheiser in-ear monitors are designed to isolate ambiance noise.

As a result, the user can hear the main sound at lower volumes than if there was noise interference.
Parting Shot
In-ear monitors are an important tool for stage performing and studio recording. IEMs don't only enable artists and audiophile enthusiasts to listen to the tracks on play with clarity but they also safeguard hearing by blocking background noise.
There are tens of in-ear monitors in the market and selecting a befitting model can be a draining undertaking. This is more challenging Check our post on whether IEMs are safe for ears and learn more.
By selecting the above nine models from Sennheiser, we have ensured you only select a model that will last and serve you with reliability.
Watch here