Bluetooth is a wireless technology that enables devices to communicate with each other. A secure radio frequency makes it possible. The wireless connection between devices provides ad-hoc networking.
When the devices are within range and without user interruption, can establish the connection. With the advancement of technology, Bluetooth technology has developed.
Bluetooth connection is set through various devices, including laptops, PCs, mobile phones, printers, PDAs, audio devices, and many more.
Two Bluetooth devices within range can connect to form a mini-network known as a piconet. Several piconets are created and linked because the connection supports point to point connection and point to multipoint connection.
Can Bluetooth Transmit Video?
Bluetooth cannot transmit a video stream because it cannot entirely support the continuous bandwidth needed for video. In most devices, the speed of Bluetooth cannot go past 1 Mb/s which is very low to support video playback with the expected quality. However, you can send a video file from one device to another using Bluetooth.
Bluetooth cannot support a stream, however, it can move a lot of data at once. The advantages of Bluetooth are its low power consumption, plus ease of use, and it's not high bandwidth.
The highest speed of Bluetooth starting with version 3.0 is 24 Mbit/s. No programs have been developed with such functionality based on the limited number of users. The method has not found popularity.
Many Bluetooth technologies, as a result, have been invented using Wi-Fi, mostly Chromecast and Miracast. The bandwidth here ranges from 50-150 Mbit/s, which can support playing videos with a resolution of 4K.
How Bluetooth sends Files
The process of sending files to another Bluetooth device nearby without using a separate app is known as Bluetooth file transfer.

Bluetooth supports file transfer in devices using Fire operating system, Android operating system, Blackberry OS, Windows OS, Mac OS, and Linux OS.
All devices supporting Bluetooth file transfer, have a Bluetooth setting on their system where all Bluetooth functions are accessed.
Bluetooth can transfer a variety of files. For example, documents, music, videos, photos, and apps. Similarly, you can send files stored in folders on mobile phones and computers.
The receiving device must be able to recognize the type of file to receive it. For example, a document in a pdf must be recognized as a pdf reader on the receiving device. The size of the file versus the transfer rate is the only limitation of using Bluetooth to transfer data.
To send files through Bluetooth, turn on Bluetooth first. Turning on Bluetooth varies from device to device. The following are the general steps of turning on Bluetooth:
Open the Settings app on your device.
Tap devices on Windows and connected devices on Android
Select Bluetooth.
Turn on the Bluetooth toggle switch to display a list of paired devices.
Creating a Bluetooth Connection
When the receiving device Bluetooth is on, it is discoverable to other devices. To create a connection, pair the two devices.
Click on the name of the receiving device to pair it. The default code for the device that may ask for a code for connection to be made is 0000.
Sending files from Mobile Phones
To transfer files from a mobile phone, follow the following steps:
Open the file manager app on the phone. It can be either File, Files Explorer, My Files, or any other app used to access the files on the phone.
Click on the folder that contains the file you want to send.
Tap the icon that helps you select files.
Select the files you want to send.
Select share or tap on the share icon.
In the sharing list that appears, select Bluetooth.
Tap on the Bluetooth device that you wish to send the file to. A message will appear on the screen that displays that the file is sending.
A notification will appear on the receiving device that shows the name of the file, the file size, and the sending device. Resend the files again if the notification does not appear.
Select accept on the receiving device for the sending to take place. If you do not want to receive the file, you can cancel the transfer by selecting Decline, Reject, or Cancel, depending on the device you are using.
The following can help get the best result and speed when transferring files:
Disconnect your devices from other Bluetooth devices such as Bluetooth headphones and Bluetooth speakers.
Transfer one file at a time instead of batches because some devices limit the files sent at a time.
Other apps should be closed until the files are fully transferred. The device needs processing power to write the data to storage.
For the signal strength to be strong, the sending and the receiving devices need to be closer to each other as possible with a clear line of sight. The signal is likely to be uninterrupted by physical obstacles and other wireless signals.
Read more on our guide on how to connect Bluetooth headphones and understand more aspects of connecting devices. Note that Bluetooth is compatible with a wide array of devices, including headphones.
Best 3 Bluetooth Video Transmitters/Receiver Kits
Bluetooth receivers help turn non-Bluetooth devices such as speakers and headphones to Bluetooth and enable them to receive audio streamed from devices that are Bluetooth enabled already. Some of the best Bluetooth receiver kits are:
Avantree Oasis Plus Certified aptX HD Bluetooth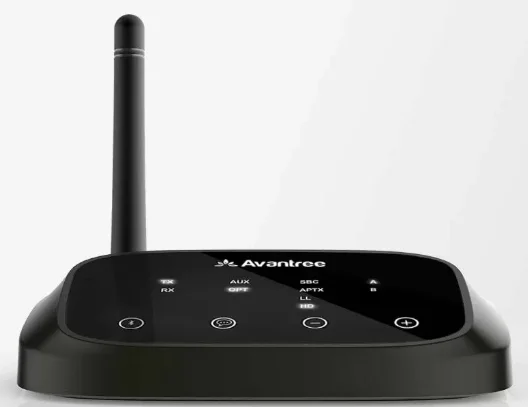 1Mii B310 Long Range Bluetooth Receiver Adapter for Home Stereo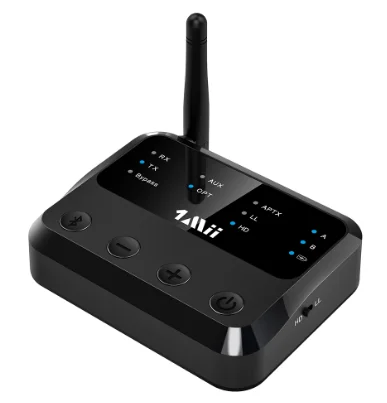 1Mii Bluetooth 5.0 Transmitter Receiver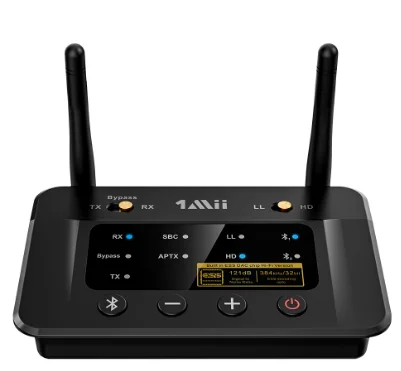 FAQs
Can you Bluetooth video to a TV
Some smart TVs have Bluetooth streaming capabilities. You can watch videos and use apps using Bluetooth. All smart TVs allow for the streaming of audio through Bluetooth.
TVs have better sound systems, and so it is crucial to connect to them when playing music from apps such as Spotify. This requires pairing your TV with your smartphone.
It is usually easy to connect your smart TV with your mobile phone's Bluetooth feature. Some phones are used as remote controls or gaming controllers when connected to smart TVs.
Is Bluetooth video camera streaming possible?
It is not possible to do Bluetooth video camera streaming. Bluetooth cannot stream data. Bluetooth does not provide the continuous bandwidth needed for video streaming.
In addition, there are no web cameras enhanced with Bluetooth that help in streaming videos. Bluetooth can only provide a speed of 2 Mb/s which is not sufficient for video streaming.
How to send a video through Bluetooth on iPhone?
To send a video through Bluetooth on iPhone:
Go to Setting on your phone, find Bluetooth and tap the Bluetooth button on. This makes your cellphone discoverable to other nearby devices.
Turn on Bluetooth on the device you want to send the video to so that it is discoverable on the iPhone.
On the list of devices discoverable on your iPhone, tap on the device you want to pair your iPhone with.
If requested, enter the passkey required on the keypad that appears on your iPhone.
Open finder or the file app and locate the file you want to share.
Select share and then select Airdrop. Airdrop uses Wi-Fi and Bluetooth for none internet file transfer. After clicking it follow the instructions that appear to send the file. Airdrop section has nearby devices in rage that can accept files.
How to play a video through Bluetooth in a car?
Some car screens can connect to Bluetooth. All you need is to pair the car device with the video playing device to watch movies, music, documentaries, and other videos on the car screen.
Best Bluetooth streaming device-Tao Tronics Bluetooth Receiver
It works best with smartphones. Besides, it has an inbuilt microphone that makes your voice clear during calls. It is compatible with Apple, and Android phones, have 10-hour battery life, and enables voice assistance.