Safe Headphone Volume for iPhone: Listen at this Level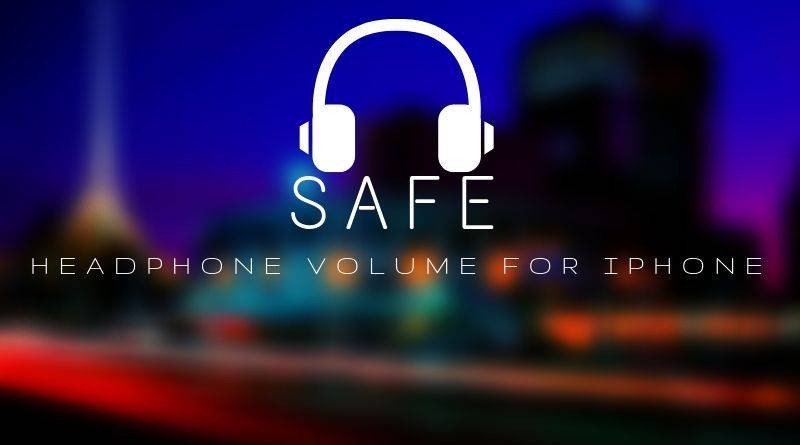 Most people love cranking up the volume of their headphones especially while using their smartphones. This is because it feels more enjoyable to hear music in high volumes. If you do not know the safe headphone volume for iPhone, you can crank up and end up damaging your ears. Most people raise the volumes of their headphones even when they are in quiet places.
The recommended safe headphone volume for your iPhone is 70% and below or any level lower than 85 decibels. Simply put, the phone volume level should not go beyond the 70% mark. Any volume level higher than that may damage your ears, especially if you listen for long.
The Safe iPhone volume level
To enjoy your media on the iPhone, you need to adopt a safe volume level that will be optimum for your ears. Always put your media volume and headphones at lower levels. However, if you are in a noisy place, you may increase your volume, but this should not be for long. In this case, you should adopt safe listening levels.
Knowing the right volume reduces the risk and is one of the ways of knowing how to prevent hearing loss from headphones. This makes it very important to always regulate the volume of your headphones especially while using an iPhone.
What is the safe Headphone volume level?
The phone has a lot of music power which means that the headphones can get really loud. Therefore, it is recommended to use safe headphone volume level as you enjoy your music.
The safe volume level is between 70 to 90%. Even if you like it loud, it is advisable you listen at this level. Anything above that is a risky high volume level and can damage your ears, especially when listening for long hours. Safety is a consideration when selecting any headphone or earphone and know which is better.

In addition, adopting safe headphone volume levels is more important when you are working in a place where to listen to music and using your headphones. In such situations, it means that you will be wearing the headphones almost on a daily basis.
Where is the 85-decibel mark on an iPhone?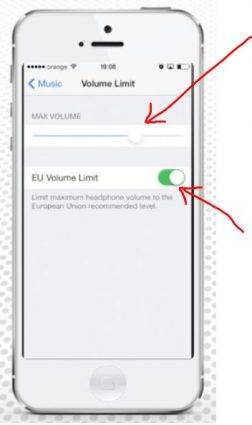 The 85-decibel volume mark on the iPhone is most certainly on the 70% level of the media volume gauge.
This is indicated on the meter that shows up when adjusting your volume on the media volume settings on the iPhone.
The good thing with the iPhone is that you can set a limit so that you do not go beyond this point.
Basically, when you increase or reduce the media volume on the iPhone, and the mark selected, the phone settings make sure that you cannot pass beyond it.
Different headphones are designed to produce different decibel levels. Two different sets of headphones might produce different decibel levels while on the same volume percentages. Because of this, you should know the specific features of your headphones.

Two of these features are the volume buttons that are located on the left side of the iPhone to increase and reduce the volume.
To increase the volume, use the lower button with a negation (-) mark, and the reducing volume will reflect on your headphones.
To increase the volume, use the upper button with a plus (+) mark, and you will notice the increased volume on your headphones or earbuds.
If you listen at a higher level than 85-decibels, then it is advisable that you do not listen for long in one sitting. In case you have the freedom to take breaks, you should also ensure that you take breaks every hour. If you do not regulate the volume you might not feel anything in the short term.
How many decibels are earphones on full volume?
The full volume of most headphones or earphones is between 110 and 150 decibels. The maximum level is determined by the type of headset and the design of the headphone or earphones. Despite having the maximum level of volume, it is advisable you do not use this high volume for long.
You should always know that if you use high volume most of the time that you are using your headphones, your ears will eventually get damaged. Some of the issues that might affect your ears are temporally where you can easily deal with them. But you can also get permanent damage to your ears.
Do manufacturers like Apple mind a safe headphone volume?
Yes, they do. Most competent manufacturers of headphones usually recommend the volume levels which you should use. In fact, Apple Inc allows you to set a sound limit on your iPhone or iPod.
The importance of this is to ensure the headphones' users are always safe at all times. When you get good headphones from a reliable manufacturer you will get details about the safest volume when using an iPhone.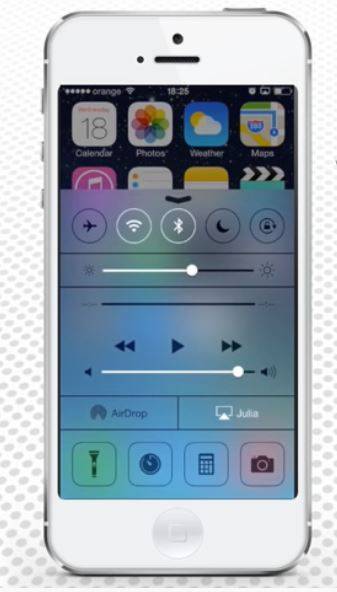 Such details are helpful because most manufacturers and sellers are usually accurate.
Apple Inc, for instance, has the media volume control center to help iPhone users adjust the music volume easily.
This is because they want to maintain their reputations so that they can look reliable.
Most manufacturers will not have any intention of causing any harm to their customers, especially those who do not limit their listening to a safe headphone volume for iPhone or any other gadget.
In addition, they will also want to provide accurate information which will play a big role in making them look reliable.
Because of this, you can rely on the information from the manufacturer and seller when it comes to volume levels.
However, it is also advisable to do independent research. This is because some manufacturers and sellers might give misleading information just to make their headphones look good.
What do studies tell about safe headphone volume decibels?
Cut A study by the World Health Organization indicates that around 1.1 billion people at risk of hearing loss. Studies tend to show that you should not have high headphones volume. in fact, the BBC reported that WHO recommends us to Cut music to 'an hour a day.'
The findings are meant to make sure that all iPhone and headphones users take the right precautions. The volume levels are usually measured in decibels. Because of this, you can easily establish the decibel levels which are safe for your ears.
What volume is too loud for headphones?
Any volume beyond the 85-decibel mark is just too loud for headphones or even earphones. However, this depends on a number of factors, ranging from the location you are at and the design of your headphones.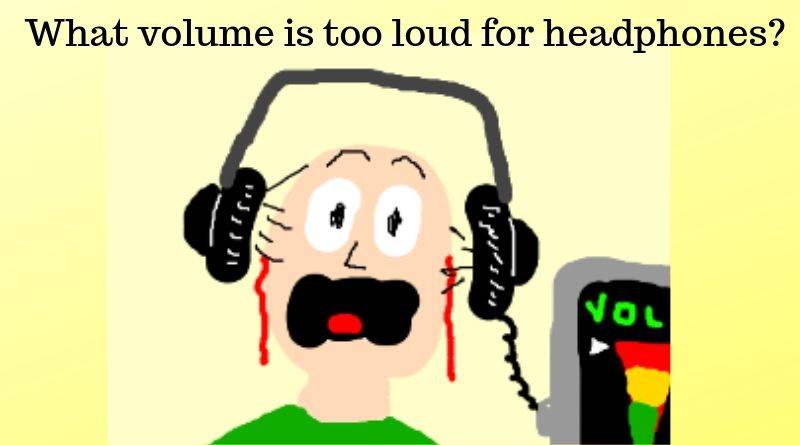 Also, the brand and the make of the headphones will help you know the decibels they can produce at any given time. You should also check the safety attributes of the headphones. This will enlighten you on the volume levels you should use to be safe.
Now, let us look at these factors and how to tell the optimum level of the volume.
What determines the optimum volume levels of headphones
1. Your Location
The volume levels of your headphones while using any phone depends on the place you are. If you are in a noisy place you can raise your volume with relatively no harm. In such a situation you might raise the volume above seventy percent. But this should only be for a short time. If you want to be safe you should look for a quiet place to use your headphones.
2, Noise Cancelling Feature
Modern headphones have noise-canceling features that ensure that you do not get disrupted by outside noises. This gives you the ability and freedom to use safe sound levels. When in situations of noise, and that will require raising volume levels do that for a few minutes. It is better to wait to hear your favorite songs when later, instead of putting your ears at risk.
3. The Headphone Design
The design of your headphones plays an important role in determining the safest volume levels. This is is because some headphones are made with more safety features than others. Some of the safest headphones for ears are designed with more safety features that are meant to protect you.
While shopping for the headphones to use with your iPhone you should make sure that you check the safety features. This will help you be able to purchase headphones with top quality features which will keep your ears safe.
How to determine the safe headphone volume for iPhone?
There are different gadgets and tools to establish a safe volume while using your headphones. You can get these gadgets and tools even for free. There are websites that can help you measure the decibels produced by your headphones.
With these tools and gadgets, you will be able to know how powerful your headphones are. This will let you know whether you can be affected negatively if you raise the volume levels to very high levels.
At the same time, you can get quality and affordable headphones that are reliable and safe provided you buy from the right seller. If you are keen you will be able to select the particular headphones which will be suitable for you. Doing a simple comparison will help you be able to identify the safest and most reliable headphones to use with your iPhone.
How to easily tell the safe iPhone volume
Basically, a safe volume for your ears should be the one that your the person next to you cannot hear what you are listening to. This is because the sound is directed to your ears, and if it can be heard aloud from outside, then you are loud.
Honestly, if the person next to you can hear what you are listening to, there is a high probability that your volume is too high. This is regardless of the type of headphones you are using.
The open-back headphones might be audible to people around you. But the closed-back option should not be audible to the people around you. This will play a big role in enhancing your safety.
The Final Advise
The safe headphone music volume for iPhone should be around 70% of the volume gauge or below. When you use the right volume levels feel free to listen to music for longer both in the short and long terms. If you need to use the headphones for more than six hours, it is important to make sure you regulate the volume effectively.
However, if you continue using the headphones on your iPhone you will eventually develop issues. Some of the issues you might develop are serious and they will affect your life significantly. Therefore, it is always advisable to use the safest headphones volume when using them with your iPhone.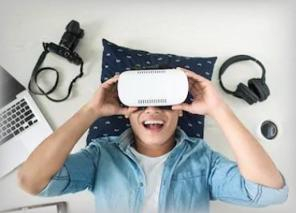 Latest posts by Michael Smart (see all)