Earbuds vs Headphones for Gaming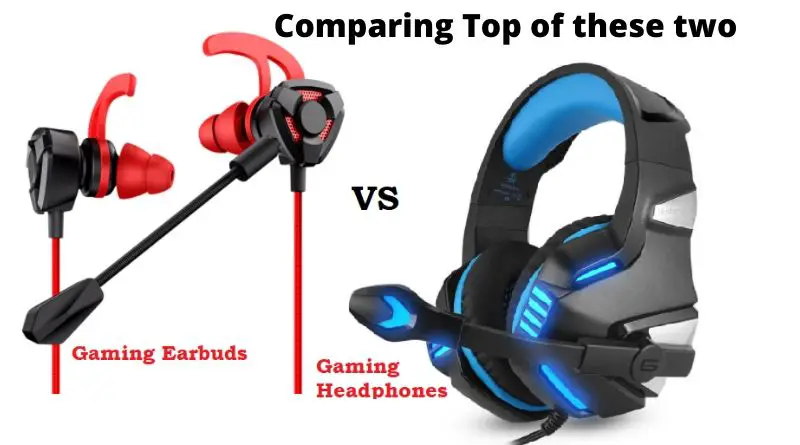 Every serious gamer knows the importance of sound while playing. With quality sound, you shall be able to enjoy the game more. however, you may face the earbuds vs headphones for gaming debate when choosing your headset.
You shall also be able to have better control because of hearing even the tiniest sounds. Some of the gadgets you can use to get enhanced sound are earbuds and headphones.
However, they are different in certain ways and as a result, you shall need to identify the ones that are more suitable for you.
Top Earbuds vs Headphones for Gaming
We have selected the top gaming earbuds compared to the top gaming headphones so that you can have an easier time making the right decision.
Let's explore each of the best two in each side
1. Best Earbuds for Gaming
1. Symphonized NRG 3.0 Earbuds
The primary attraction to these headphones is top-quality clarity of sound. You get to hear all the details happening in the game.
Symphonized NRG 3.0 earbuds also produce balanced bass which is helpful in that you will enjoy all the action. To ensure you hear all the different sounds without disruptions, they have been endowed with a noise isolation feature.
Even if you are playing the game in a place where there are other noises, the earbuds can keep the external noises out.
By getting these particular earbuds you will be guaranteed of getting some of the most elegant gaming earbuds in the market. Their body is made using natural wood that is handcrafted. 
Comfort has also been given priority in the making of the earbuds where they have soft tips that are made using silicone. Your ears shall be comfortable throughout the time you shall be using them.
The makers of Symphonized NRG 3.0 earbuds have ensured that these tips are of the standard size. Therefore, they fit perfectly on your ears without producing any pressure.
Controlling the various features on the Symphonized NRG 3.0 earbuds is easy because the control features are easily accessible.
You do not need to move around to reach the different control options. There is a tangle-free cable with a 3.5 mm audio jack that can be connected to most gaming devices.
Pros
Looks very elegant
Six color options to choose from
Can be connected easily
Clear sounds
Simple control options
Cons
No sweat or waterproof feature
Cannot be repaired easily
2. Betron ELR50 Earphones Earbuds
Are you a passionate gamer who loves gaming in the most comfortable way? If yes, then here are the right earbuds for you.
with Betron ELR50 earphones earbuds, you shall not feel any weight on your ears because the earbuds are super light.
They have a metal housing which is helpful in making them look elegant and also enhance durability. Functionality is also top class since they come with a tangle-free cable.
The sound produced by these modern devices is super clear and it is completed by top-quality bass.
Irrespective of what you are using to game, you shall hear all the sound with enhanced clarity.
Betron ELR50 earbuds have a 3.55 mm port that allows them to be connected with almost every device since most modern devices have this standard connection option.
The earbuds are also very comfortable where the ear tips are made using soft silicone.
The ear tips can effectively isolate the outside noises and this further enables you be able to play almost anywhere even in places where you are surrounded by noises. 
The price of Betron ELR50 earbuds high performances is reasonable compared to other models that have similar features.  This makes them even more suitable for some gamers.
Pros
A reliable housing
A strong microphone
Very light
Affordable
Compatible with most modern features
Cons
The cable can break easily if put under pressure
Available only in one color
2. Best Headphones for Gaming
1. RUNMUS Gaming Headset
As a gamer, I know you are always looking for headphones that will provide enhanced gaming experience. The RUNMUS gaming headset shall provide exactly that.
One of the most superior features you shall get to enjoy is top clarity when it comes to sound. It is one of the factors to consider when buying good headphones.
You will be hearing your enemies long before you see them. There is a 50mm driver which provides enough power to make sure you are hearing everything effectively.
Since most gamers play for long hours, comfort and safety have been enhanced. It comes with breathable ear pads that keep your ears comfortable.
The RUNMUS gaming headset's headband is made with an adjustable design which allows you to wear it irrespective of anything else you have on your head.
There is the freedom to use it with almost any device since they have been endowed with the standard 3.55 audio jack.
RUNMUS gaming headset's noise cancelling feature shall make sure that you are only hearing the sounds coming from the game.
When communicating with other players you shall not be disturbed by the noises around where you are.
Before being released to the market, these gaming headphones are tested properly to make sure that they only have the right qualities.
To confirm that they are top quality RUNMUS gaming headset comes with a twelve-month warranty.
Pros
Top class clarity
Cancels external noises effectively
Easy connection to different devices
Comfortable on the ears
A warranty to confirm its quality
Cons
Pricey
Hard to adjust the features
1. ONIKUMA Gaming Headset
We found this modern gaming headset to be the most superior among all the other gaming headphones vs earbuds.
For starters, the ONIKUMA gaming headset is made by a top company that is highly respected in the gaming headphones making field.
Even before starting to use this headset you shall know it must have the right features. You shall enjoy the right levels of clarity since there is the 7.1 surround technology.
This is complemented by the 60mm driver which also helps you get quality sound including very balanced bass.
You can easily adjust this headset to ensure that it picks up sound at 360 degrees. The cable is optimally strong where you will use it for long without experiencing any issues.
Controlling the different features of this headset is easy since you can control the features while using your fingertips.
Comfort has also given priority in the making of this headset where the ear caps are softly padded. You can use the headset for as long as you like without feeling uncomfortable.
The size of the ONIKUMA gaming headset's ear cups has also been enhanced to allow them to be able to cover your entire ear. 
Pros
Outstanding sound quality
Very comfortable
Durable because of being made with the right materials
Compatible with almost every gaming device
Simple control options
Cons
Bulkier than similar products
Spare parts can be challenging to get
Final Verdict
Most gamers prefer to use gaming headphones because they have more advanced features. This might be true but there are also gamers who like to play without having bulky things over their heads.
Such players would for sure choose the gaming earbuds. We have used both earbuds and headphones for gaming and our verdict is that both have qualities that make them ideal. 
You might even opt to buy both to be interchanging them depending on what you want at the moment. Check our buying factors for headphones on what you need to know.
However, if you can afford and you like more sophisticated features you should choose the gaming headphones.
Conclusion
Being a gamer is enjoyable but it also requires that you use the right gadgets. Choosing the right earbuds vs headphones for gaming is a step towards enjoying your games.
With modern devices being made almost every day because of the growth in technology, you might have a hard time trying to make the right choice.
Most of the modern devices have almost similar features and this might confuse you. Read this article if you need to check gaming and TV headsets for more options.
We have examined the features of both the best gaming earbuds and the best gaming headphones. We hope your coming gaming days shall be better after you have chosen exactly what will suit you.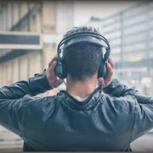 Latest posts by James Kanfer (see all)